HP Digital Entertainment Center
HP Digital Entertainment Center
Filed under: Miscellaneous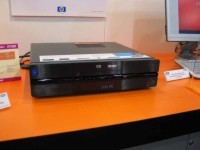 The HP Digital Entertainment Center allows users to persoanlize, manage and enjoy all of their entertainment from one central hub. The Digital Entertainment Center features:
Microsoft Windows XP Media Center Edition 2005
Super Multi Double Layer HD DVD Recorder (with DVD+/-R/RW/RAM/ROM and CD+/-R/RW support)
Dual NTSC TV tuners and single OTA ATSC HDTV tuner
Pause, review and record TV shows with programmable record features
Personal Media Drive bay (400GB removable drive)
LightScribe Direct Disc labeling
Dolby Digital 5.1 surround sound
Analogue 7.1 preamp surround sound outputs (for use with DolbyTrueHD and HD DVD discs)
Front mounted AV connectors
Front panel 9-in-1 media card reader
Long range RF wireless keyboard with integrated trackball and separate full function remote
Black brushed aluminum front panel with HP media info display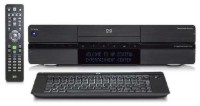 The demo of this unit was quite impressive and was shown along with HPs new md6583n DLP television . Now that CableCARD has been approved for Windows XP MCE, we will start seeing these devices able to function as dual-tuner HD DVRs. Add in an HD-DVD recordable device (not yet available) and you've got one impressive box. We may not be all that far away from seeing PCs in the living room after all, especially with both Microsoft and Intel (see our Intel VIIV coverage) working towwards making this a more useable and practical option.
Pricing and availability was not announced at the show, but look for this to hit the market after HD DVD is formally released later this year.
For more information, please visit www.hp.com .