Gibson Wurlitzer Digital Jukebox
Gibson Wurlitzer Digital Jukebox
Filed under: Miscellaneous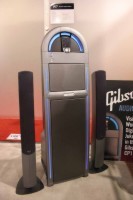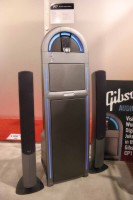 With state-of-the-art digital technology, Gibson's Wurlitzer Digital Jukebox updated one of the greatest symbols of rock and roll excitement and garnered rave reviews at this year's CES. Powered by D2Audio's patented Digital Audio Engine-1, the Wurlitzer Digital Jukebox delivers dynamic music playback while allowing users to store a vast amount of music in digital format. Up to 1,500 CDs can be stored and called up with a wireless, touch-screen remote. In addition, music lovers have direct access to the Wurlitzer Music Service, a digital music service that offers 100 channels of digital radio and a full download store that contains hundreds of thousands of songs for purchase. Users can create mix CDs, personalize playlists, and export songs to a music player. Though it is not recommended to turn it on with a Fonzie-style thump, the Wurlitzer Digital Jukebox provides all the great history of the jukebox, perfected for the needs of modern music lovers.
From advanced digital amplification to Klipsch loudspeaker design, the Wurlitzer Digital Jukebox utilizes exclusive technologies to deliver a satisfying music experience. Specs include:
120GB Hard Drive
1500 CDs at 160kbps (WMA format)
External Hard Drive expansion (USB 2.0)
160kbps, 256kpbs, 320kbps & uncompressed audio
375 watt, 3-way amplification
Satellite speakers with 2 x 3.5" mid-bass drivers and .5" silk diaphram Tractrix Horns
Integrated long-throw 8" subwoofer
3.5" Wireless Color Touch-screen Remote (802.11b)
Scroll knob for rapid navigation of large catalog
Transport buttons (Play/Pause, Stop, Next, Prev,Volume, Mute)
Network: Ethernet communication with the Internet (for access to Digital Music Service and additional CD/Artist information)
Audio Output: 1 Analog, 2 Digital (optical and coaxial)
USB: Hard Drive Expansion, External portable music player
Dimensions: 16 3/8" (W) x 55" (H) x 14 3/8" (D)
Weight: 85 lbs.
Speakers: 4 1/2" (W) x 41" (H) x 6" (D)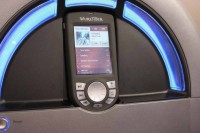 The system also automatically captures CD album infomration. Simply insert a CD and watch the Wurlitzer Digital Jukebox capture cover art, artist name, CD title, and song titles witout you having to lift a finger (uses the infamous Gracenote CDDB).
>
"With D2Audio's reputation for premium digital audio, we knew their Intelligent Digital Amplifiers were the perfect fit for our Wurlitzer Digital Jukebox," Said Henry Juszkiewicz, Chairman and CEO, Gibson Guitar Corp. "The sound quality is amazing and consumers will definitely embrace it."
MSRP is just $1,999 and shipping is expected immediately.
For more information please visit www.gibson.com .