Flying Mole CA-S3 Integrated Amp
Flying Mole CA-S3 Integrated Amp
Filed under: Amplifiers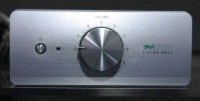 At about the size of a few CD cases and weighing a mere 3 lbs., the CA-S3 Integrated Amplifier is truly an audio enthusiasts' portable, compact solution to their bedside, desktop, or PC sound system. Beautifully encased in a non-magnetic pure aluminum enclosure, the CA-S3 incorporates Flying Mole's proprietary 2 x 30W/4ohm Bi-Phase PWM Digital Amplifier and Full Resonance Power Supply.
Other elements of the CA-S3 include, but are not limited to:
World's First One Pole Pre-Amplifier - newly developed for this unit, the 27 level volume control with high accuracy enables enjoyment of high quality sound at any output level
Super Strong Power Supply for High Definition - the CA-S3's power supply is 3 to 5 times stronger than is the norm. At 150 Watts maximum and 50 Watts continuous, this power supply offers a stable sound picture with excellent musical qualities
Proprietary Bi-Phase PWM Amplifier and Power Supply - depresses distortion levels to the point unattainable by other conventional digital amps. This results in the reproduction of subtle signals and brilliant sound
Newly Developed Speaker Terminals - the cone shaped solid, gold plated brass speaker terminals enable maximum contact with bare wires thus minimizing contact resistance
Simple Construction for Pure Sound - the CA-S3 is not equipped with either input or speaker selector. Simple and true to the concept of the "straight wire with gain", it aims at the pure reproduction of the signal
Flying Mole's Continuous Commitment to Ecology - with total efficiency of 80% at max power (turn electricity into power, not heat), low power consumption (energy saving), compact body (resource saving), and the CA-S3 even qualifies for the new RoHS directive on restricted use of hazardous substances
MSRP and shipping information was not announced or finalized.
For more information please visit www.flyingmoleelectronics.com .