Denon Intros External iPod Dock
Denon Intros External iPod Dock
Filed under: Miscellaneous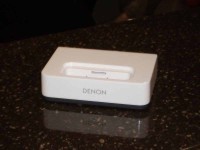 Denon showed off a new external iPod docking station that will work with all of its '07 series receivers including the newly announced AVR-2807 . The new iPod docking station (a model number is forthcoming) has a separate 12VDC power supply, analogue audio outputs and even an s-video output for connecting up a video iPod to your system. Connecting it via the 1/8" Control port to any of Denon's '07 line of receivers will allow it to interface with the receiver and send your music, pictures, or video streaming along...
The new Denon receivers will offer control and command of iPods through the use of a proprietary connection and will put the iPod data on the screen (looks just like a full-color representation of what you would see on the iPod). The iPod will even charge while plugged into the system. The dock does perform digital to analogue conversion - this was necessary in order to comply with Apple's DRM needs. If you use an iPod Photo you will get pictures along with any soundtrack you wish to play along with it - all through the docking station. Remember, the remote control is able to control the iPod at this point - this is VERY cool. The system works with 3rd or 4th generation iPods, iPod nanos, or iPod Minis.
For more information, please visit www.denon.com .