Denon AVR-2807 Receiver
Filed under: Receivers/Processors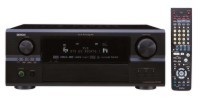 Denon Electronics added the new mid-tier Model AVR-2807 (SRP: $1,099) to its line of advanced audio/video receivers. With a full complement of all current available Dolby and DTS surround sound decoding technologies, this unit includes IR remote in/out terminals for integrated system control. In addition, all models including the entry level AVR-1506 feature assignable amplifier configuration for either 7.1-channel surround operation or 5.1 surround with an amplified second zone.
High-End Features and Performance
With a suggested retail price of just $1,099, Denon's AVR-2807 receiver includes many of the same features that distinguish Denon's higher-priced units, such as HDMI digital video source switching. In addition, for maximum performance from all video sources, the AVR-2807 upconverts all incoming analog video signals (composite, component and s-video) to HDMI output and provides a simple one-cable connection between receiver and display.
Other features in the AVR-2807 include the unique room correction and calibration technology called MultEQXT from Audyssey Laboratories that maximizes room acoustics for multiple listeners, creating an optimized 6-point soundfield and compensating for speaker and room capabilities to provide a "sweet spot" for every listener in the room.
Like the Denon AVR-4806, AVR-4306, AVR-3806 and AVR-2106, the AVR-2807 features XM Satellite Radio's new "Connect-and-Play" technology, which lets users add XM Satellite Radio functionality with the addition of an optional "Connect-and-Play" XM Satellite Radio antenna (SRP: $49.99).
Denon's full line of high-performance A/V receivers include the AVR-5805 (SRP: $6,000), a 22-channel home entertainment distribution solution; the THX Ultra 2-certified AVR-4806 (SRP: $3,500); the recently introduced AVR-4306 (SRP: $1,999); AVR-3806 (SRP: $1,299); AVR-2106 (SRP: $699); AVR-1906 (SRP: $549); AVR-1706 (SRP: $449) and AVR-1506 (SRP: $329).
For more information, please visit http://usa.denon.com .