Chief PNR Swing Arm Mounts
Chief PNR Swing Arm Mounts
Filed under: Furniture & Mounts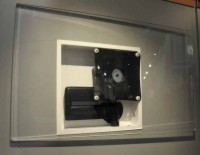 Chief Manufacturing Inc. introduced the new In-Wall PNR Swing Arm Mount for 37"-65" large flat panel TVs. Available in March 2006, this mount takes home entertainment mounting solutions to the next level, converting swing arm mounts from low-profile to absolutely no-profile and flush with the wall.
Using the In-Wall PNR, flat panels float on the wall, giving them a unique aesthetic look for home entertainment. The swing arm mount is completely hidden in the wall until the plasma or LCD TV needs to be pulled out and angled. This is accomplished with an in-wall structure mounted directly between studs, surrounding the swing arm wall mount. For a seamless look, the sheetrock is neatly finished off up to the in-wall structure. The In-Wall Mount can be used in either new construction or retro-fit installations.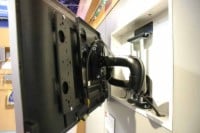 While accomplishing a zero profile installation, the In-Wall Mount still has many of the same great features as Chief's PNR Dual Arm Wall Mount. Effortless, fingertip tilt adjustments and extreme range of motion make it great for viewing screens from just about any angle. Overall these are some excellent mounts, which is why Chief Manufacturing won one of our 2006 Product of the Year Awards this year for their RPA-U unversal projector mount.
For more information please visit www.chiefmfg.com .