Chief Motorized Mounts
Filed under: Furniture & Mounts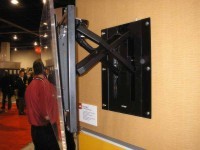 Chief mounts has a very impressive booth this year that was pretty crowded due to their introduction of many new and innovative mounts including some very cool motorized mounts.
The CM1 automated swing arm mount is designed for flat panels up to about 170 lbs and has three programmable preset viewing positions. The mount will extend to 18-inches and swivel + or - 60 degrees. The mount has a recessed dept of just 3-inches. Shipping is slated for April 2006 and the mount has a suggested retail of $1499.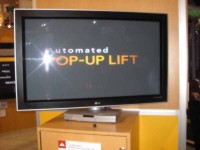 The CM-2 Automated pop up lift is designed for flat panels up to about 200 lbs and provides up to 45-inches of lift at a very fast 2-inches per second. The stored height of the lift is only 32-inches. Another unique aspect about the lift is that it provides tangle free cable management, making the install clean and easy. The lift has programmable show positions and an IR remote is included. Shipping is scheduled to begin April 2006 and the suggested retail price will be $2799.