ABT DVDO Processor
Filed under: Miscellaneous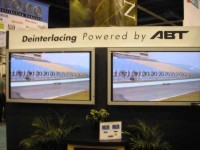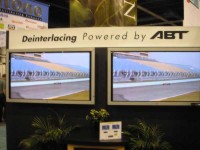 DVDO demonstrated their new 'Powered by ABT' video processor. The new processor dramatically reduces scan artifacts and noise from the image. The DVDO representative indicated that the new processor will be incorporated into many new mid priced products including flat panel displays, DVD players and projectors. We spent a lot of time at the DVDO booth putting the new ABT video processor through its paces to see how it compared to other video processing technologies. When this new processor makes its way into mid priced products we believe that this will likely be a step forward over completing processors at the same price.
Anchor Bay Technologies provides both chip and system level video processing solutions to equipment manufacturers and end customers. They are also engaged in the sale of their semiconductor technology to OEMs for design into new video products, and also maintain a global distribution and sales network for their DVDO system-level product line.
The demonstration included HD (1080i) de-interlacing, MPEG noise reduction, detail enhancement and its second generation video scaling technology. ABT's HD de-interlacing technology includes detection of interlaced (including non-flagged) video which originated from any progressive source, motion and edge-adaptive de-interlacing for video sources as well as low latency options for video gaming. ABT's noise reduction technology includes removal of video noise that results from compression artifacts while the Detail Enhancement technology naturally increases edge and fine detail to create a sharper image by reducing noise and overly enhanced edges. ABT's video scaling technology preserves the detail in the original image to create an outstanding picture for today's high-resolution displays (up to 1080p).
ABT's Precision Video Scaling technology was first deployed in ABT's DVDO iScan HD and has recently been designed into Marantz's DV9600 DVD player as well as Denon's flagship DVD player, the DVD-5910.
Other trademarked technologies that will be marketed under Powered by ABT include: Precision Video Scaling™, RightRate™, AutoCUE-C™, and Precision AV LipSync™. Precision Video Scaling is the first of ABT's technologies being offered to OEMs. In the coming months new leading edge technologies that support the requirements of today's high definition displays will also be made available.
Available Powered by ABT Technologies:
> ABT's Precision Video Scaling™ technology is based on ABT's proprietary video scaling engine that can independently scale an image horizontally and vertically to achieve an outstanding picture quality for today's high resolution video displays. The scaling engine is completely flexible, accepting standard definition (480p, 576p) and high definition (720p and 1080i) inputs and outputting any resolution from VGA (640x480) to 1080p (1920x1080) with multiple standard and custom aspect ratios. Since the scaling engine is completely flexible, other image manipulation features are also supported including zoom, pan and border controls.
ABT's RightRate™ technology converts the input frame rate to the optimal display frame rate without causing 'tearing' in the output frame. ABT's high performance frame rate conversion also supports converting film sources from 24 frames per second to 48, 60 or 72 frames per second for NTSC format and from 25 frames per second to 50 or 75 frames per second for PAL/SECAM format. The higher frame rates eliminate flicker in high-end displays such as CRT front projectors. In addition, driving displays at 48 or 72 frames per second (NTSC) and 75 frames per second (PAL) often results in smoother motion in panning scenes. ABT's RightRate technology is extremely flexible, allowing the output frame rate of the video source to be changed to precisely match the frame rate requirement of today's high resolution displays.
ABT's AutoCUE-C™ technology automatically detects and removes chroma artifacts caused by incorrect up-sampling of the chroma (color) signals by MPEG decoders in DVD players and satellite receivers. These artifacts are especially noticeable as horizontal streaks in images with highly saturated colors. When these artifacts are removed, the picture quality of the images is significantly improved.
ABT's Precision AV LipSync™ technology automatically delays the audio signal to match the video processing delay in DVDO products. As a result, the AV lip-sync problem that is caused by video processing delay is eliminated. The audio delay can also be further adjusted to correct the AV lip-sync problem that may be already be present in the AV source.
For more information please visit www.dvdo.com .