Yamaha RX-V1700 and RX-V2700 Receivers
Yamaha RX-V1700 and RX-V2700 Receivers
Filed under: Receivers/Processors
Yamaha Electronics introduced two mid-class 7.1 channel A/V digital home theater receivers, the RX-V2700 and RX-V1700 which continue the innovations of their already wildly popular RX-V series receiver line. The RX-V2700 features an Ethernet connection, enabling consumers to access Internet radio stations, music files stored on a PC, and the company's premier MusicCAST audio system server (MCX-2000). Both models are compatible with the Apple iPod, via an optional docking station (YDS-10), and allow playback of XM Satellite Radio's standard and XM HD Surround content.
With its network connection, the RX-V2700 enables users to enjoy the extensive number of Internet radio stations available, as well as music files stored on a PC. The RX-V2700 can also act as a client to Yamaha's premier MusicCAST system, making it possible to access as many as 40,000 songs (in MP3 format) stored on that system's MCX-2000 server. Streamed content information from PCs and the MusicCAST system can be displayed on an entertainment system's monitor, and system operation navigated with a consumer-friendly graphical user interface (GUI).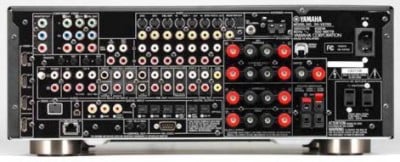 RX-V2700 employs the Digital ToP-ART concept and High Current Amplification to maximize sound quality. Custom-made 18000uF block capacitors, low-jitter PLL circuitry, Burr-Brown 192kHz/24bit DACs and Schottky barrier diodes are examples of the top quality parts used in RX-V2700. Pure Direct mode on both models can be activated to prevent unnecessary noise interference from internal components, including display circuitry, when pure sound listening is required.
The RX-2700 and RX-V1700 are capable of HDMI 1080p signal pass through and up-converting analogue composite, S-video and component signals to HDMI output, with a time base corrector (TBC) that stabilizes the video signal. Both models employ the latest Oplus de-interlacer to convert 480i to 480p. The RX-V2700 can also upscale to HD resolution of 720p/1080i by utilizing Anchor Bay Technology's ABT1010 video scaling chip. 1080p upconversion is apparently slated for a future product.
The RX-V2700 and RX-V1700 offer flexible system configuration options, as the 7.1 channels can be used to create an immersive surround sound environment in a single room, or the seven internal power amplifiers can be allocated for main room, zone2 and zone3 in various applications. Thanks to this Intelligent AMP feature, users are able to enjoy the full 7.1 channel system in the main room when zone 2 and 3 are powered off. When zone 2 and 3 are on, the main system automatically adjusts to a 5.1 or 3.1 channel system. Front panel Zone control buttons, Zone2/3 tone control, a dedicated Zone remote and RS-232C interface allow both receivers to be easily integrated into custom installations. The RX-V2700 also offers Zone2/3 balance adjustment.
Both models connect easily to most Apple iPods via an optional iPod docking station (Yamaha YDS-10; SRP $99.95). Once docked, the iPod can be operated (song selection, play, etc.) via the receivers' remote controls. A one cable connection allows users to view the iPod's video, pictures and operating status (song title, artist, etc.) on a television monitor. In addition, docked iPods are automatically charged so they are ready to be taken on the go at all times. The RX-V2700 also provides a front panel USB port to for quick and easy connections of other portable audio devices.
Yamaha's proprietary Compressed Music Enhancer technology compensates for the lost detail of compressed audio, such as MP3 audio files, providing these files with a more natural recreation of the original music performance when experienced through home speakers.
Playback of XM HD Surround from XM Satellite Radio, which delivers audio programming in full 5.1 channel surround sound (XM Ch. 76 and 113), as well as content from the company's 160-plus standard service channels, is achieved via an optional service subscription and XM Passport antenna. Neural Surround technology enhances the experience of XM HD Surround, delivering a detailed sound stage with superior 5.1 channel separation.
The Yamaha Parametric Room Acoustic Optimizer (YPAO) has been improved to perform down to 31.5Hz from the previous 63Hz, allowing it to work with a system's subwoofer to create a sharper bass image. This proprietary technology simplifies the home theater setup process by automatically analyzing room acoustics and setting parameters for optimum sound quality at the touch of a button. Yamaha has upgraded the Cinema DSP programs for both the RX-V2700 and RX-V1700. New 'Action' and 'Roleplaying' game programs deliver dynamic sound when used with the latest video game consoles.
The RX-V2700 (140Wx7; SRP $1,699.95) and RX-V1700 (130Wx7; SRP $1,299.95) will be available in September.
For more information visit Yamaha