Yamaha DVD-S2700, DVD-S1700, DVD-S659
Yamaha DVD-S2700, DVD-S1700, DVD-S659
Filed under: DVD/HD-DVD Players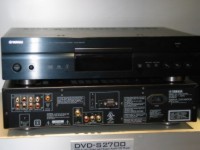 Yamaha Electronics unveiled three DVD players, the DVD-S2700, DVD-S1700 and DVD-S659, at CEDIA 2006. The DVD-S2700 and DVD-S1700 include 1080p upconversion via HDMI allowing them to be easily integrated into even the most up-to-date custom installation applications.
Yamaha's "Noise Shaped Video" improves the accuracy of signal representation and allows images to be displayed at much higher resolutions. Other advanced technologies and features that maximize image quality include Faroudja DCDi processing and a 216 MHz/12-Bit Video DAC. Progressive scanning (for NTSC and PAL formats) delivers a smoother, film-like image when viewed on a high definition TV or large screen.
Both models can playback DVD-Audio and Super Audio CD content as well as files encoded in MP3, JPEG, DivX and WMA. An Audio Direct Mode switches FL display off and takes the video circuitry out of the signal path so that it does not affect audio quality during playback. Bass Management, particularly important for realizing the full effect of DVD-Audio and Super Audio CD content, routes the bass frequencies for the best performance from a multi-speaker home theater system.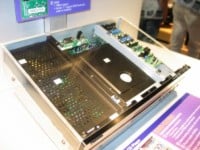 The DVD-S1700 and DVD-S2700 are driven by on-screen displays with graphical user interfaces (GUI). An RS-232C interface allows both units to be controlled via third-party controllers (such as a touch-panel) in custom installations.
The DVD-2700 has added features to ensure superior sound quality, including four top performance 192kHz/24-Bit 2-channel audio DACs and a large transformer exclusively for the audio section. Independent chambers for the power supply, operational and video circuits prevent interference between sections.
An aluminum front panel finish gives both models a sophisticated look and feel.
Also debuting at CEDIA was Yamaha's DVD-S659 (SRP $179.95) progressive scan model with HDMI interface, 1080i and 720p upscaling, and DivX Ultra Certification. The unit can playback all versions of DivX video, including DivX 6. The unit can also play content in MP3, JPEG and WMA formats. The DVD-S659 is also driven by an easy-to-use graphical user interface (GUI).
Other advanced features of the DVD-S659 include Night Mode, which enables users to hear audio with the proper tonal balance and dynamic range when watching movies at low volumes; multiple options for viewing picture (JPEG) CDs; and versatile MP3 playback with fast forward, rewind, repeat and shuffle playback.
Yamaha's new DVD players will be available this fall - DVD-S2700 (October/SRP $999.95), DVD-S1700 (October/SRP $449.95) and DVD-S659 (September/SRP $179.95). For more information visit www.yamaha.com/home .