Velodyne SubContractor SC Sub Series
Velodyne SubContractor SC Sub Series
Filed under: Subwoofers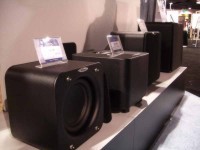 Velodyne Acoustics announced the introduction of the SubContractor (SC) Series, a complete range of passive subwoofers powered by a separate 1250 watt amplifier that allow custom installers to install reference quality bass for in-wall, in-cabinet, in-room, in-floor or in-ceiling use.
The SubContractor Series product line consists of the SC-IW (In-Wall), four in-room or in-cabinet subwoofers (SC-8, SC-10, SC-12 and SC-15), and the SC-IF/IC (In-Floor/In-Ceiling) subwoofer, all powered by the SC-1250 digital amplifier.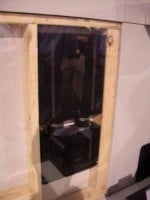 The highlight of the SubContractor Series is the SC-IW (In-Wall) subwoofer. The SC-IW fits flush in a standard 2x4 wall and is easy to install with a unique two cabinet system for either new construction or retrofit applications.
This in-wall sub fires vertically in the wall using a patent-pending T-shaped driver design that minimizes wall vibration and maximizes woofer travel and performance. The SC-IW includes both a standard 14" grill for easy installation and servicing and an incredibly small grill that is less than 5" high. Both grills can be painted to match the room's décor.
This is one promising subwoofer and looks to be a great product for those looking to implement multiple subwoofers in a new construction environment.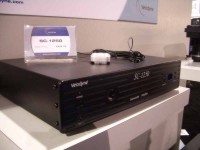 The SC-1250 amplifier is a two-unit high rack-mount design with 1250 watts RMS and 3,000 watts peak power. The DSP-controlled Class D amplifier comes complete with a seven-band automatic room-EQ for room bass correction providing the best bass performance regardless of woofer placement. Additionally, four internal EQs as well as subsonic frequency, slope and overload protection have been customized to each SC series subwoofer model, ensuring optimal performance.
The SC-1250 can drive up to two SC series subwoofers with no reconfiguration. The SC-1250 comes complete with remote, microphone and rack mount hardware, and can be controlled via universal remote systems via IR mini-jack or RS-232 connection.
The four SC series in-room subwoofers (SC-8, SC-10, SC-12 and SC-15) have a shallow depth ranging from 9 1/8" to 13 3/8" allowing for easy placement in any interior. They sport recessed binding posts enabling a flush rear panel and complete hardware to configure the woofer to be downward firing. Like all SC series subs, they are connected using standard speaker wire. With these features the SC in-room subs can fit easily into any room or into standard cabinetry with in either a front-firing or down-firing orientation.
The SC-IF/IC (In-Floor/In-Ceiling) offers many mounting options for the installer looking to completely hide the subwoofer under the floorboards or up in the ceiling. It comes with a 12" driver and full mounting hardware.
The SC-IW (In-Wall), and the SC-1250 amplifier each have a suggested retail price of $999. The SC in-room subwoofers (SC-8, SC-10, SC-12 and SC-15) are priced at $399, $599, $799 and $999 respectively, and the SC-IF (In-Floor) is priced at $799.
For more information visit www.velodyne.com .
Velodyne President Bruce Hall poses with the inwall subwoofer driver and enclosure system.