Vantage Point EVO Mounting System
Vantage Point EVO Mounting System
Filed under: Furniture and Mounts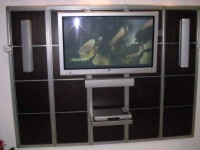 Vantage Point introduced the evo system, a modular, furniture quality installation solution for home entertainment and home office electronics. The evo system by Vantage Point is a mounting system for flat panel televisions and electronic components onto the wall while freeing up floor space. It consists of an aluminum frame and track system that is expandable to support many equipment configurations. The frame is hung on two independently mounted rails and extends 4" from the wall creating a hollow space for power and wiring distribution without going into the wall. 16"x16" removable real wood veneer panels, available in Maple, Cherry, Walnut, Black Ash and Espresso, allow access to wiring and power connection while creating a furniture quality appearance. Also available are various evo accessories such as tempered glass shelves, flat panel mounts and speaker mounts to support components and TVs. The frames and shelf brackets are available in Black, Silver or Graphite.
The evo system installs into wood or metal studs, concrete or masonry. The system has advantages for installations in apartments and rented homes since it can be easily removed requiring only minor wall repairs. Equipment changes and or upgrades can be accommodated by rearranging shelves and mounts or expanding the frame.
A 4 x 4 panel system starts at around $3000.
For more information please call 888-TV-MOUNT or visit www.vanptc.com .