Toshiba REGZA 1080p LCD TV
Toshiba REGZA 1080p LCD TV
Filed under: TVs and Displays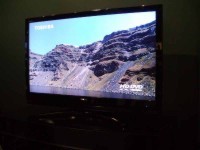 Toshiba demoed two new 1080p LCD HDTVs in their new REGZA/Cinema Series Pro line. Cinema Series Pro models represent the highest quality high definition TVs in Toshiba's lineup. While they looked incredible, Toshiba is almost legendary for not showing much motion in their displayed demo images. As a result you really don't get a good feel for how the displays function in the real world.
>
We can certainly say that the new high-gloss black cabinetry looked absolutely gorgeous and the sets are well positioned at the top of the LCD food chain.
>
As part of the REGZA line, Cinema Series Pro models feature the new PixelPure "Hi-Bit" 12-Bit digital video processing with 4,096 levels of gradation for 16 times the gradation levels of standard 8-bit systems, and cleaner, more natural images. They also include new CineSpeed LCD panels with a fast response speed of 8ms or less and a wide 176 degree viewing angle, as well as Toshiba's new ColorMaster Pro color management system. ColorMaster Pro provides hue, saturation and brightness control of six individual colors, plus three user-selectable colors, to create deep natural colors for increased depth and more realistic images. Cinema Series Pro models also include Toshiba's new "Native Mode", which provides clean 1080p pixel-for-pixel display without any scaling or overscanning.
>
Cinema Series Pro models come equipped with ATSC/QAM digital tuning, which enables the sets to receive both digital terrestrial and digital cable-in-the-clear broadcasts. In addition, the new models offer complete jack packs that include a PC Input and dual HDMI inputs for a direct digital connection to an A/V source device such as a digital cable box or satellite receiver. Cinema Series Pro models also include Discrete IR codes with an IR pass-through port, and an IR Input port for system integration.
>
Toshiba Cinema Series Pro LCD TVs also include a CableCARD slot and TV Guide On Screen for digital cable ready (DCR) capability and HD Window POP (picture-on-picture). These models also feature Toshiba's innovative THINC RJ-45 network capability, allowing consumers to connect the TV to a PC and view their JPEG picture files, or listen to their MP3 audio files, using only the TV remote.
>
As part of the Cinema Series line, the two new models include Toshiba's SoundStrip speaker technology, which caters to the need for modern compact cabinetry while providing big home theater sound. Cinema Series Pro sets also include SRS WOW and Virtual Dolby technology offering superior sound quality that gives the user the feeling of using a surround sound system without having one. Both TVs come equipped with Toshiba's new 6-item Illuminated home theater universal remote control.
>
Pricing and Availability
> The 42" 42LZ196 LCD TV is priced at $3,399 and should be available in September 2006. The 47" 47LZ196 LCD TV is priced at $4,599 and should also be available in September 2006.
For more information please visit www.toshiba.com .