Themeaddicts Interactive Mirror
Themeaddicts Interactive Mirror
Filed under: Miscellaneous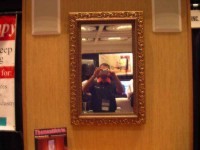 One of the most unique pieces of equipment we saw at CEDIA was the Themeaddicts M30P intereactive mirror. Themeaddicts, Inc. is a California Corporation composed of a team of seasoned theme park attraction and feature film special effects professionals. The Themeaddicts mission is to bring professional quality entertainment and technology to the home automation market. With this goal, Themeaddicts has developed and patented a unique line of messaging devices for the residential enthusiast. These devices have been specifically designed to provide fun and entertainment, while also keeping you and your family informed about what is happening in and around your home environment.
The patented "Magic Message Mirror" looks and functions like a decorative wall mirror, but when your home automation/security system senses a change in your environment, "Basil of the Mirror" (a somewhat pompous English Butler personality) magically appears and verbally provides real-time information. The M30P will also theatrically reveal an integrated live camera feed to show the area of interest if you have cameras incorporated into your home security system, or decide to add them when you install the M30P. The M30P can provide real-time information about people walking up your driveway, entering the yard, standing at your front door, or anything else your current home security system is set to monitor.
>
The M30P assembly incorporates a mirrored 30" (measured diagonally) LCD display that has been specifically engineered to perform in the portrait mode. The system includes a built-in content "server" and other necessary processing, control and cooling hardware. The messages provided by the M30P are pre-composed audio/video files that are stored in solid state memory on the system server, in a proprietary format. In addition, Themeaddicts has incorporated a chroma activated, live video feed. When specially encoded messages are played, the live camera feed window is theatrically revealed within the M30P.
Some of the more popular messages include:
>
• "Hmmm…most curious... it seems that we have a pedestrian approaching up our driveway"
> • "For your information… a motor car has departed"
• "It appears that a pedestrian is exiting out of our driveway"
> • "May I inform you that the motor car garage door has just been opened"
• "Pardon me, this is merely a reminder, but the motor car garage door is still not secure"
> • "Will someone please greet our guests at the door!"
• "Ahh yes….. it seems the Jacuzzi is now at the selected temperature"
> • "Pardon me, but isn't it time to leave for practice"
• "Alarm! Alarm! The pool gate has been opened"
>
Prices start at $22,000
For more information visit www.themeaddicts.com
>

>