Sony VPL-VW50 DLP Projector
Sony VPL-VW50 DLP Projector
Filed under: Projectors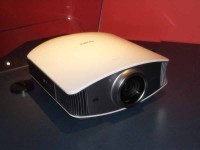 The new VPL-VW50 model, based on Sony's SXRD (LCoS) technology, was absolutely phenominal. We got a chance to see it up close and personal and let me just say that it's going to be tough to top this projector.
With a suggested retail price of less than $5,000 (which we can only assume means $4999), the VPL-VW50 joins Sony's two existing 1080p SXRD front projectors, the QUALIA 004R1 and the VPL-VW100 (Ruby).
The projector features a 200-watt Ultra High Pressure Lamp which produces high brightness at 900 lumens, reproducing natural and accurate colors. We weren't able to get an answer on the replacement cost of the lamp, but hopefully it's not as steep as the $999 Ruby model.
The VW50 also features dual HDMI inputs which support both 1080p/60 and 24p frame rates. It processes at a direct multiple of 24p to avoid artifacts like judder or flicker when viewing next-gen high-definition formats like HD DVD. Other inputs include component video, RGB, S-video and composite video. An RS-232C connection is included for flexible control options.
An "All Range Crisp Focus" (ARC-F) lens, optimized for high resolution 1080 images, is a new feature of the VW50. The lens has 16 elements which allow for flexible throw distances making installation easier in less than ideal conditions.
The VW50 is also equipped with Advanced Iris 2, which seemed to produce very accurate blacks. When "auto" Iris mode is selected the projector is said to deliver a stated dynamic contrast ratio (full on/off) of up to 15,000:1. The Advanced Iris 2 also features a variable setting allowing for user optimization. The projector features a 1.8x POWERED lens zoom, POWERED focus as well as POWERED vertical lens shift to adjust the location of the image for flexible installation locations. Like its predecessors, the VW50 unit's advanced cooling structure produces a low fan noise of 22dB, critical for home theater applications.
Features & Specs:
1920 x 1080p/24/60 resolution
Three SXRD (LCoS) micro-display chips
Dynamic contrast levels of up to 15,000:1 using Auto Iris function
200W Ultra High Pressure (UHP) lamp
Brightness optimized for screens 120" and less
22dB fan noise
Lens shift (powered vertical)
Real Color Processing (RCP)
Dual HDMI (PCI timings supported) plus RGB and component video inputs
Network connection
12V trigger output terminal
The new VPL-VW50 projector will be available this month at Sony Style stores and online at www.sonystyle.com for $4,999.99. It will also be offered at authorized dealers nationwide.
More information on the VPL-VW50 can be found at www.sony.com/CEDIA2006 .