Runco 1080p Projectors
Filed under: Projectors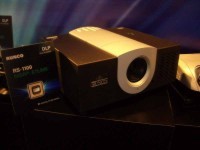 Runco International launched their highly anticipated line of single-chip and 3-chip state-of-the-art 1080p native resolution DLP projectors and showcased a 3-chip 1080p projector with CineWide technology in the Runco theater on the show floor.
A total of seven new 1080p projectors were launched, rounding out the broadest projector line in the home theater market. Each new model is offered with Runco's exclusive CineWide and/or CineWide with AutoScope technology as an available option. Retail pricing ranges from $11,995 for the single-chip DLP Reflection Series model to $115,000 for the most sophisticated 3-chip DLP Video Xtreme machine when equipped with the CineWide with AutoScope option and Runco's most advanced McKinley anamorphic optics.
Company President Bob Hana outlined Runco's strategy for providing dealers a complete spectrum of 1080p product choices, "Our goal is to offer our dealers 1080p solutions across the board in terms of price points, product features and performance, and the ability to spec the right product for every installation challenge they encounter. With our new 1080p portfolio, we are providing the product assortment they need to retain their competitive advantage. Each of these 1080p products has been engineered to Runco's exacting standards for the highest levels of video performance, and include Runco's industry leading Vivix video processing.
Runco's new 1080p model lineup begins with two models in the Reflection Series, the RS-1100 and RS-1100 Ultra, both incorporating single-chip DLP based light engines engineered and calibrated for the finest video reproduction and certified to comply with the Imaging Science Foundation's exacting standards for excellence in picture quality. The RS-1100 and RS-1100 Ultra feature Runco's proprietary SuperOnyx light engine and Selectable Lamp Intensity Control (SLIC) which provides two selectable lamp intensity levels to allow maximum flexibility for screen size, ambient light conditions, brightness and contrast balance, and preservation of usable lamp life.
The RS-1100 Ultra offers six CinOptx Proteus and Telesto premium grade lens options with a range of different throw distances.
Runco's no-compromise Video Xtreme portfolio is now expanded with the addition of five 1080p models. Designed and engineered with proprietary technologies, the Video Xtreme Series will include two new single-chip 1080p DLP projectors and three new 3-chip 1080p DLP projectors. All Video Xtreme projectors are paired with a new version of Runco's acclaimed DHD controller, the DHD-2 which is engineered for optimal 1080p performance with the new projectors. The VX-55d, the flagship of the Video Xtreme line was playing in the Runco Theater on the show floor, booth #141.
All of these new Runco 1080p models will also be on display in Runco's dealer presentation and training room #501 in the Denver Convention Center. Every new model in the fall lineup will be available by October, with some models already shipping.
For more information on Runco International, Inc., please visit www.runco.com .