Projectiondesign Action! model two DLP projector
Projectiondesign Action! model two DLP projector
Filed under: Projectors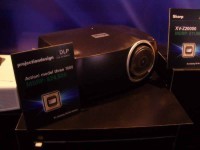 Projectiondesign, announced their new Action! model two DLP projector with optical lens shift. It has a native resolution of 1280 x 720 using Texas Instruments HD2+ DC3 DLP technology and projectiondesign's own video processor design, which incorporates Faroudja's DCDi . the Action! model two offers SD and HD video.
The projector features a sealed optical design with a precision ground glass 1.85-2.40:1 zoom lens with 0-100% optical vertical shift, The model two is suitable for table and ceiling installations.
The projector is housed in a small magnesium cabinet, that also serves as a heat sink, and is available in a Maranello Blue or Pearl White finish - custom cabinet colors are also available at additional cost. The Action! model two measures 3.7" high x 10.9" wide x 9.2" deep and weighs only 6 pounds.
The Action! model two uses UniBoard video signal processing. All processing is kept on a single printed circuit board.
For additional details, contact Projectiondesign, 201-943-1616, or visit www.projectiondesign.com .