Panamax MAX 7500-PRO
Filed under: Cables & Power Filters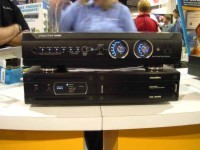 We visited Panamax this week at CEDIA to look at their new MAX 7500-PRO for Home Theater Power Management. The MAX 7500-PRO delivers comprehensive protection against quality-degrading electromagnetic interference (EMI), radio frequency interference (RFI), digital noise and ground loops for the home theater market.
Key features of the MAX 7500-PRO include advanced filtration, ground isolation, remote diagnostics (IP-ready with optional Ethernet card), voltage regulation, balanced power meters, Automatic Voltage Monitoring (AVM), additional high-current outlets, auto dimming meters, protection for Cable Access Television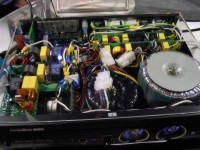 (CATV), telephone, and Local Area Networks (LANs), as well as a 12-volt trigger, USB light, and rack ears.
At the heart of the MAX 7500-PRO is an advanced power filtration system featuring a 720VA isolation transformer, which provides power for digital source components or displays. Most transformers inherently block surges, but isolation transformers provide extra protection by isolating the power fed into the primary winding of the transformer from the energy sent out on the second winding, meaning no EMI or RFI contamination is able to pass through them.
In addition, any noise generated by digital source components is isolated and prevented from reaching key audio or video components over power cords. The MAX 7500-PRO's ground isolation feature mechanically interrupts potential ground loops, making the system especially useful for applications with unstable power or ground issues.
The MAX 7500-PRO is available at an MSRP of $1,499.95.
For more information about the MAX 7500-PRO or other Panamax products, visit www.panamax.com .