Optoma HD70 Projector
Filed under: Projectors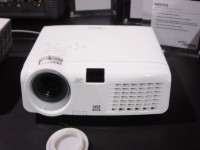 Optoma introduced its new HD70 home theater projector. The HD70 is the company's new portable 720p resolution DLP home theater projector that offers outstanding functionality and value.
The HD70 features a DarkChip2 DLP DMD chipset from Texas Instruments and a 4000:1 contrast ratio with Optoma's proprietary ImageAI technology. The Optoma HD70 is designed to provide a great, all-around projected picture for home theater enthusiasts.
At 1000 lumens and a native 16:9 aspect ratio, the HD70 also offers digital horizontal and vertical keystone correction, whisper-quiet 28dB operation, as well as a plethora of connection ports. The HD70 also highlights Texas Instruments' BrilliantColor color processing technology to deliver higher brightness and provide truer, more vibrant colors to the projected picture.
Display Technology: Single 0.62-inch DarkChip2 DLP chipset
> Brightness (typical): 1000 lumens
Contrast Ratio: 3000:1 (Full On/Full Off); 4000:1 in ImageAI mode
> Resolution: 720p native
Uniformity: 95 percent
> Video Compatibility: NTSC, PAL, SECAM, HDTV (720p, 1080ip), SDTV (480i/p, 576i)
> Aspect Ratio: 16:9 native, 4:3 compatible, LBX support
I/O Connectors: HDMI, Component Video, VGA with Component & SCART Compatibility, Composite Video (RCA), S-Video, IR Receiver, 12V Trigger Relay
> Lamp Life: 3000 hours (standard)
Weight: 5.6 pounds
The Optoma HD70 home theater projector will be available for an estimated street price of $999 through authorized Optoma dealers and retailers.
For more information please visit www.optomausa.com .