Niles EVC-100 Electronic Stereo Volume Control
Niles EVC-100 Electronic Stereo Volume Control
Filed under: Remotes/Control Systems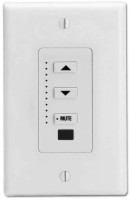 Niles Audio Corporation released the company's latest volume control and finishing accessories: the EVC-100 Electronic Stereo Volume Control and several new Convenience Outlets and Connectors.
The EVC-100 Electronic Stereo Volume Control is available in white, bone, almond and black and features a convenient wall-mounted interface and included wireless remote control. Both interfaces feature large, volume up/down/mute buttons and illuminated displays. Electronic circuitry provides equal volume increments over 12 listening levels, while overriding circuitry allows door chimes to be heard over speakers.
The EVC-100 is outfitted with impedance magnification, allowing the connection of up to four controls to one amplifier. A built-in infrared sensor, when used in conjunction with any Niles IR main system unit, can transmit remote control commands back to a wide variety of system components.
The Convenience Outlets and Connectors line includes a 2-gang home theater solution, two in-wall solutions for connecting up to 12 pairs of loudspeakers and a modular panel for configuring up to six of Niles Decora style outlets in one location. All are compatible with Niles wide variety of premium banana plugs and connectors.
All feature sturdy construction and are backed by a limited, 10-year warranty, something dealers have come to expect from Niles for over 28 years. Shipping now, they are sold exclusively through a network of Niles factory-authorized dealers.
For more information go to www.nilesaudio.com .
Niles EVC-100 Stereo Volume Control Details:
The EVC-100 features a convenient wall-mounted interface and included wireless remote control with a built-in infrared sensor. Volume, mute and programmable sleep functions. Dynamic range: 43dB over 12 volume levels. Available in white, bone, almond and black. MSRP is $189.95
Niles Convenience Outlets and Connectors Details:
2-Gang Home Theater Convenience Outlet: Connects all speakers for 5.1, 6.1 and 7.1 digital surround systems and Pro Logic/Pro Logic II analog systems. Features gold-plated, color-coded binding posts and RCA connectors. Accommodates up to 14 gauge speaker wire, spade lugs, pins or banana plugs. Provisions for powered and passive subwoofers. Requires 2-gang electrical box. MSRP is $73.95
In-Wall Speaker Panel (For up to 12 pairs of speakers): Features full-frame speaker wall plate panel and gold-plated, five-way binding posts. Connects up to 12 pairs of speakers. MSRP is $219.95
>
In-Wall Speaker Panel (For up to Six pairs of speakers): Features frame speaker wall plate panel and gold-plated, five-way binding posts. Accommodates up to 12 gauge speaker wire, spade lugs, pins or banana plugs. Connects up to six pairs of speakers. MSRP is $89.95
Modular Panel for Mounting In-Wall Six-Speaker Panel: Features frame and insert for installing one or two in-wall speaker panels. Includes one blank frame panel and mounting screws. Required for installation of six speaker in-wall panel. MSRP is $39.95
>
Modular Panel for Six Decora Convenience Outlets: Features frame and insert for installing six Decora style Convenience Outlets. Can be used with any single gang Decora style Convenience Outlet. MSRP is $99.95
>