McIntosh VP1000 and AP1000 Processors
McIntosh VP1000 and AP1000 Processors
Filed under: Receivers/Processors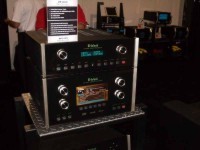 McIntosh Laboratory, a 50 year old company is finally completing the home entertainment picture by adding a new line of McIntosh video products led by the company's first-ever video processor, the VP1000. It is designed as a companion piece to meld seamlessly with the MDLP1.
The new VP1000 is designed as the ideal complement to the MDLP1, and is in fact included in the purchase price of the projector. It is the first McIntosh Video Processor developed as a line-rate scaler between video source components and higher resolution displays such as plasma, LCD, DLP and HD video displays. A 2-zone processor, the VP1000 features dual scalers, allowing users to make image adjustments from many separate sources to two different displays in independent zones. For added flexibility and convenience, the VP1000 performs video adjustment functions such as color, sharpness and contrast. The VP1000's inputs include 4 HDMI, 6 Component, 6 S-Video and 6 Composite; outputs included Composite, S-Video, Component and HDMI up to 1080p. An RS232 port provides for control of other systems, and a large 2 x 20 character alphanumeric florescent display and advanced OSD setup menus add to the VP1000's flexibility and ease of use.
For total convenience and flexibility, McIntosh's UEI HR057 dedicated remote control combines the functionality of the VP1000 and MDLP1. The maximum flexibility and installation convenience, the VP1000 will ship with the ceiling mounting bracket included.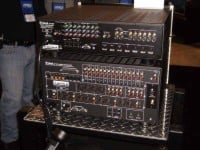 The VP1000 is also designed to connect seamlessly with McIntosh's new AP1000 Audio Control Center, which features a dedicated control interface port for the VP1000. The combination of these two processors results in a convenient "two-box" A/V solution. In addition to allowing for total video switching and processing of the VP1000 through the AP1000 Audio Control Center, another benefit of this two-box combination is that when video software upgrades are available, consumers upgrade only the video portion and not be required to upgrade a more expensive audio/video processor. With the AP1000, users also enjoy the benefits of an LCD front-panel video display for control and live video, as well as Ethernet and USB connection for third party control and update, a next-generation TI chip set for DSP audio processing, as well as 12 Audio inputs and both balanced and unbalanced outputs and more.
For more information please visit www.mcintoshlabs.com .