Life|ware & HP Present CEDIA Home of Electronic Lifestyles
Life|ware & HP Present CEDIA Home of Electronic Lifestyles
Filed under: Miscellaneous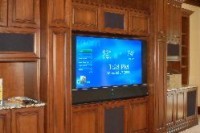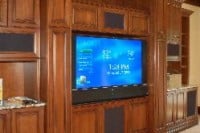 Exceptional Innovation, along with its joint sponsor HP, invited CEDIA EXPO attendees to get a first look at how today's products work together to create a truly comprehensive digital lifestyle in the CEDIA Home of Electronic Lifestyles®. The 2,000 square foot, fully integrated automated home was in the parking lot directly across from the main entrance to the Colorado Convention Center during the Expo.
The CEDIA Home of Electronic Lifestyles is an outreach initiative that is designed to help educate architects, builders and interior designers on the world of integration. The home showcases how integrators can leverage Exceptional Innovation's Life|ware software, HP's digital entertainment hardware and Microsoft Windows XP Media Center Edition to completely manage home environments - everything from live television, music, digital photos and videos to lighting, security, HVAC, audio distribution and more.
"This home really demonstrates how digital entertainment and digital living combine to make living in the home easier and more enjoyable," said Mike Seamons, vice president of marketing for Exceptional Innovation, producers of Life|ware home control software. "This is an exciting new and intelligent way to approach automation, and integrators can see for themselves how MCE is a platform they can build their business on."
HP showcased its Digital Entertainment Centers, Media Center PCs and HDTVs throughout the home to demonstrate the variety of ways a family can live, work and play.
"With this home, HP is able to demonstrate how entertainment can be networked through the home on a variety of devices to meet different consumer needs, "said Jan-Luc Blakborn, director of Digital Entertainment for North America at HP. "This is an excellent opportunity for us to demonstrate to integrators how we can help them add value and increase their profitability."
The CEDIA Home of Electronic Lifestyles was outfitted with quite a few companies, including Cooper Aspire RF lighting, Russound whole house digital audio, and DSC security. Thermostats and cameras were also controllable and could be accessed from any HP Digital Entertainment Center or Media Center PC with Windows XP Media Center Edition, an Xbox 360 as a Media Center Extender, or from Life|point high definition touch panels.Yeah, that makes for a pretty cool house - though I don't really envision too many Xbox 360 units acting as home control system head-ends.
This was a good way to showcase a simulated home living experience to integrators attending CEDIA. Most people don't get a complete picture of exactly what these technologies can do when put together and we were glad to see this demonstration being made available to attendees.
The CEDIA Home of Electronic Lifestyles was built in partnership with the NextGen Home Experience, produced by iShow.