LG LF-D7150 microsystem
Filed under: Miscellaneous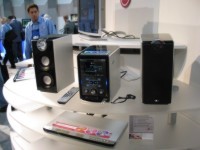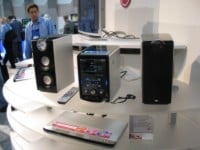 LG introduced the LF-D7150 microsystem home stereo. The Micro DVD Hi-fi system is a compact-sized micro system. The system comes with side woofers that make this system sound much larger than it is. If your room doesn't have much space to accommodate a large system check out the LF-D7150.
The system has 160 watts total output, and a full digital amplifier. It also comes with multiformat disc playback including DVD Video, DVDR, DVDRW, Audio CD, CD-R, CD-RW, WMA, and JPEG formats.
The unit has a MP3 optimizer (Frequency Level Optimization), a USB host and is Karaoke ready.
For more information visit www.lge.com
>
AMP
> Power Output - Front 180W
Dolby Digital, DTS, MP3, Dolby Prologic, Dolby Prologic 2
>
TUNER AM/FM
>
CD/DVD PLAYER
> CD, CD-R, CD-RW, DVD, DVD-RW, DVD+RW, VCD, SVCD, MP3CD, WMA, JPEG Viewer

> No. of discs 1
>

>