KEF Five-2 Series Speakers
KEF Five-2 Series Speakers
Filed under: Loudspeakers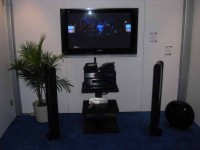 KEF introduced their Five-2 Series speakers. As the name implies, the Five-2 Series speakers strives to produce true five channel sound from just 2 patented speaker enclosures. The completely new line is comprised of the Model 7 bookshelf speaker system (seven drivers) and the Model 11 floor standing speaker system (eleven drivers). Both models feature a "racetrack" shaped enclosure and are available in either a matt silver or high gloss black finish. Optional matching floor stands and wall brackets are available for use with the Model 7s.
KEF claims to achieve true five-channel, no compromise sound from two speaker enclosures by combining their patented Uni-Q 'point source' drivers in a multi-driver array with a new application of NXT flat panel technology.
The Five-2 Series Speakers are designed to be used with a KEF Subwoofer. Although any KEF Subwoofer may be used with the Five-2 Series Speakers, it is recommended to match them with KEF's new generation HTB2 Sub, available in the same matt silver and high gloss black finish.
KEF Five-2 Series speakers will be available October 2006 and the Model 7 and Model 11 will retail at $1,200 and $2,000 respectively.
For additional information about KEF and its award-winning products, please visit www.kef.com .