JVC HD-ILA HDTV
Filed under: TVs and Displays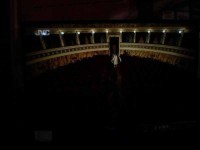 JVC delivered its new generation 1080p HD-ILA rear projection high definition TVs. JVC's 1080p line includes sets in 56-, 61- and 70-inch screen sizes including models equipped with an RS-232C interface for use in custom installation applications. In addition, all 2006 JVC HD-ILA 1080p sets include a 1080p input.
Each JVC HD-ILA television uses three of the company's D-ILA microchips, LCOS (liquid crystal on silicon) technology developed by JVC. All models use a native 1080p D-ILA device, a 0.7-inch 1920 x 1080 chip, or more than 2 million pixels per chip. Image quality of both standard and high definition signals is ensured through the use of a new optical engine with JVC's new Advanced Super Cinema Mode that responds to scene content. The sets also employ JVC's Genessa 32-bit CPU video processing, incorporating the fifth generation of JVC's D.I.S.T. (Digital Image Scaling Technology). D.I.S.T. seamlessly up-scales any video source to display at full high definition 1080p. Standard definition signals are improved through better IP conversion, improved scaler performance and a new PLL system that improves the performance of a composite signal.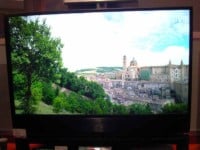 D.I.S.T. also includes a Digital Noise Suppressor, a "Mosquito Noise Suppressor" that reduces noise without degrading the image, and a 3D Y/C comb filter with DTV Cross Color Eliminator that uses a 10-bit 3D Y/C separation process to reduce cross color and dot interference that is imbedded in older source material. Each also includes a new ATSC/DRC/QAM/NTSC tuning system, two IEEE 1394 inputs, two HDMI inputs, two component inputs, PC input, and an AV output.
In addition, the audio performance of new HD-ILA TVs is improved through the use of MaxxBass, digital signal processing that extends the perceived bass performance, and a built-in parametric equalizer for more accurate frequency response.
JVC offers two 1080p HD-ILA series. FN Series sets feature a silver cabinet with black bezel. FH Series televisions include an RS-232C interface, gold jacks, and a black cabinet and bezel.
Prices and availability:
Model National Ad Value
HD-56FN97 $3,499.95
HD-61FN97 $3,799.95
HD-70FN97 $5,499.95
HD-56FH97 $3,799.95
HD-62FH97 $4,099.95
HD-70FH97 $5,799.95
For further product information, visit JVC's Web site at http://www.jvc.com or call 800-526-5308.