IVIE IE-35– Audio Analysis System with STI-PA
IVIE IE-35– Audio Analysis System with STI-PA
Filed under: Miscellaneous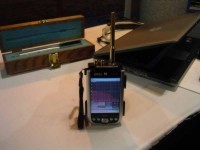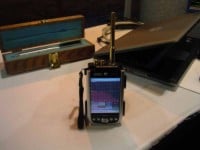 Ivie Technologies, a long time manufacturer of acoustic test instrumentation and commercial audio electronics, showed us their new miniature handheld audio analysis system called the IE-35. With the IE-35 system, Ivie has moved to the Dell Axim X51v computing platform. The new IE-35 weighs in at only 11 ounces and contains new functions such as STI-PA, RT-60 and Delay.
Much like Ivie's IE-33, the IE-35 system is a Microsoft Windows Mobile ("Pocket PC")-based audio instrument solution that provides calibrated measurements including real time analysis, sound pressure level (SPL), SPL area coverage, SPL over time (strip chart), noise criteria (NC), noise index class (NIC), RT60 reverb, and STI-PA as well as a dual trace/XY oscilloscope, signal generator, polarity checker, audio level volt meter, delay measurements and more.
The IE-35 system provides 1/1, 1/3, 1/6 and maximum (1/24 octave*) resolution as well as a low frequency zoom between 20Hz and 2kHz (1 Hz resolution). Electrical and acoustical sampling, subtraction, averaging, and other functions are operated using the Dell Axim's brilliant VGA 3" x 2 1/4" color TFT display and Ivie's software with easy-to-navigate menus. Integrated 802.11b, Infrared and Bluetooth™ Wireless Technologies are inherent in the Dell Axim X51v along with other standard business productivity tools.
A Dell Axim X51v PDA can be inserted into the Ivie IE-35 "jacket" and is connected via the CompactFlash slot thereby transferring information from Ivie's 7mm electret condenser Type II microphone, low noise preamp and 24 bit A/D converter to the processing power and display of the Axim PDA. The jacket also accepts one or two line input channels.
The IE-35 system will be available direct from its Ivie-USA and Ivie-Europe offices and consists of the IE-35 jacket, Dell Axim X51v PDA, calibrated Type II microphone, the IE-35 analyzer software, IvieXLS software (a Microsoft Excel-based graphing tool), belt pouch and wind screen. Options include STI-PA and RT60 software, Type I microphone, and microphone extension cable. A special package excluding the PDA is also available for a reduced price for existing Dell Axim X51v owners.
The price is $1747.00 including the PDA
Ivie can be contacted at (801) 766-7600 or visited online at www.ivie.com .