Inteset Denzel Media Server
Inteset Denzel Media Server
Filed under: Media Centers/Servers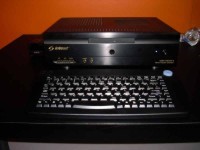 We viewed the Inteset Denzel TP420-Sx home theater media server. The Denzel system boasts 1.2 Terabyte of internal storage upgradeable to 2 Terabytes. One of the most intriging features of digital media is the ability to store and organize it in one place. With 100 CDs occupying 18GB of space, a single movie taking up to 8GB of disk space and two hours of HDTV content taking up to 18GB of disk space the Denzel is packed with massive amounts of storage capacity.
In addition, the Denzel is equipped with a Dual Layer DVD drive which means you can burn up to 8.7GB of content on a single removable DVD disk. Within the Denzel are a high definition TV tuner, a standard definition TV tuner, and an FM radio tuner. You'll be able to rewind, record, and pause live TV. You can pause and rewind FM radio stations too. You can also connect the Denzel directly to your cable or satellite box.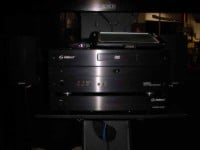 >
Another feature of Inteset is the My Movies module to search and play back any movie in your collection. You can also view cover art, description, ratings, year released, actors, and other information about the movies. With this feature you can find your movies by title, genre, actors, directors, ratings, or personal favorites. Tap into Inteset's free movie profile database to instantly update each movie profile simply by entering the movie's UPC code.
The Denzel TP420-Sx supports high speed external storage devices via a second gigabyte Ethernet port and two FireWire 800 ports so your media library will not be limited by storage restrictions. With Inteset's TeraRAID II and TeraRAID V products and the FireWire 800 interface, you can expand your storage up to 2 additional terabytes. Furthermore, you can use the second FireWire 800 interface to add yet another TeraRAID device.
The Denzel starts at $6600.00 with 1.2 terabytes of memory.
For more information visit www.inteset.com