InFocus IN78EX DLP Projector
InFocus IN78EX DLP Projector
Filed under: Projectors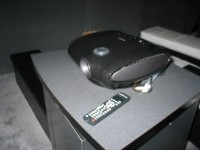 InFocus debuted their new Play Big IN78EX DLP projector which is enhanced by Pixelworks' DNX video processing technology.
Everything has been tweaked - even the fully-featured remote features a simple keypad and a new patent-pending flashlight feature, direct source access, programmable presets and more (hey, we just ask for a backlight and direct input selection!)
The internal level recognizes when the IN78EX is ceiling-mounted, automatically flipping the projected image. This seems extremely convenient and does a nice job of avoiding the "upside down menu configuration" dance we all go through when setting up a new projector for the first time.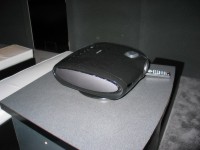 An icon-based menu allows you to quickly scroll and select your settings in your choice of 12 languages - without interrupting video playback.
Five user-selectable video sources enable impressive connectivity with a full range of devices, including VCRs, DVDs, component and RGB HDTV, EDTV or your game console of choice.
The IN78EX uses Pixelworks' DNX video-processing technology.
Basic Features & Specs:
Native 1280 x 720 resolution (1080p/24 input accepted)
The 720p DarkChip3 DLP
Lens: Fully recessed 12 element zoom lens, all glass; F/2.4-2.8, 21mm-27mm focal length
Lamp: 160/200W SHP, 3000 hours average lifetime
1000 ANSI lumens
3500:1 calibrated contrast ratio
Proprietary six-segment color wheel
Throw ratio: 1.52:1 - 1.92:1
Digital keystone +/- 20% vertical
Weight: 9.3 lbs.
Dimensions: 4.7" x 14.2" x 14.2" (120mm x 360mm x 360mm)
MSRP is set at $4499 with immediate availability. For more information please visit www.infocus.com .