Hitachi Director Series Plasma
Hitachi Director Series Plasma
Filed under: TVs and Displays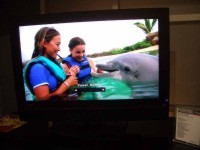 Hitachi announced that its new 2006 Director's Series product line, including plasma and LCD flat-panel televisions has begun shipping. The new plasma HDTVs feature 42- and 55-inch screen sizes. Hitachi's 42-inch model introduces 1080 vertical lines of resolution to the 42-inch plasma screen size for the first time. This original Hitachi plasma technology creates a line for vertical line match with the dominant 1080 HDTV format. The 55-inch model uses similar proprietary technologies that produce more active picture area and a brighter picture. The new 37-inch LCD HDTV features Hitachi's proprietary black frame insertion technology and 120Hz high speed double refresh drive, allowing for a sleek, sophisticated design and the best picture quality possible.
The new models include the UltraVision CineForm Director's Series Plasma HDX99 in 42- and 55-inch screen sizes, and the 37-inch UltraVision CineForm Director's Series LCD Flat Panel HLX99.
Hitachi's top-of-the-line UltraVision CineForm Director's Series models for 2006 include the 42-inch 42HDX99 and 55-inch 55HDX99 plasma HDTVs. Both models feature a new Deep-Black Natural Color Filter that effectively absorbs ambient room light, reducing reflections for deeper blacks and more vibrant color.
The 42HDX99 and 55HDX99 models include all of the technologies found in the HDT79 and HDS69 models, including the new PictureMaster HD III digital video processor. The CineForm Director's Series Plasma HDTV line also features an exclusive high-end industrial design with an all black design. For film enthusiasts, the Director's Series features a special "Film Quality Image" factory setup that provides increased detail in shadows and highlights while maintaining sharp focus and minimal noise.
These Director's Series models feature the exclusive Learning AV NET V with Simple Remote, which concentrates the power of total home theater control into a small hand-held 12-button remote. This convenient and intuitive remote fits comfortably in the palm of the hand and can command an entire home theater system. In addition, these models include IEEE-1394 with full AV control capabilities.
The 42HDX99 and 55HDX99 are currently shipping for the suggested list prices of $3,099 and $4,999, respectively, with a two-year parts and labor warranty.
The Director's Series represents Hitachi's top-line engineering technology and includes the UltraVision 37HLX99 120Hz LCD model. This superior black gloss home theater display features the very best of Hitachi's industry-leading advancements in LCD technology, providing film quality image tuning, black and white color temperatures and custom color temperatures, an adjustable color decoder, auto color and Hitachi's own Digital Color Management III technology. HLX99 series displays come with a convenient power swivel tabletop stand, TV Guide On-Screen IPG, a Roll and Click illuminated remote control and separate simple remote control and a two year parts and labor warranty with in-home service, all in addition to the HLS69 series features.
The 37HLX99 is now shipping at the suggested retail price of $2,499.
For more information please visit www.hitachi.us/tv .