Hitachi 1080p Plasma
Filed under: TVs and Displays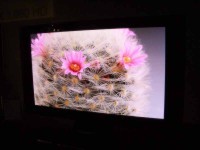 Hitachi demonstrated what it referred to as the industry's first 42-inch full high-definition plasma television (HDTV) at CEDIA as well as a 60-inch full HD plasma display. The Hitachi 42-inch plasma display introduced 1920 x 1080 lines of resolution to the 42-inch plasma screen size for the first time, offering a pristine vertical line match with the dominant 1080 HDTV format.
Hitachi's development of the 1080p 42-inch plasma display was done via the application of a number of original technologies. Using its proprietary electrode sharing technology, the 42-inch full HD panel delivers more than two million pixels and more than six million individual lights. A patented "slim-rib" feature enables a wider aperture ratio, creating a higher than average plasma brightness of 1,000 cd/m2. Picture quality is also enhanced and better controlled through more effective signal processing.
For more information please visit the company's website at www.hitachi.com .