HAI Hi-Fi Whole Home Audio System
HAI Hi-Fi Whole Home Audio System
Filed under: Miscellaneous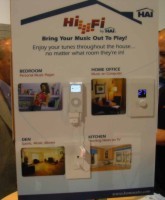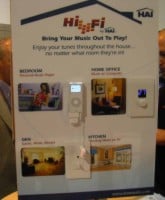 We looked at HAI's new Hi-Fi Home Audio System at CEDIA this week. Hi-Fi by HAI is a high fidelity digital whole home audio distribution system that has 4 zones and 4 sources, expandable to 8 zones and 6 sources. The system comes with a built-in unit with remote input modules, so music can be enjoyed in any room regardless of where the music source is located.
Hi-Fi by HAI's digital design means there is no need to run wires to a central audio rack. Instead, the main unit is mounted on a closet wall or in a structured wiring enclosure, so the wiring is hidden. Volume and Source Controls (VSC) with a routed IR repeater then communicate with the main unit. The result is music from an office PC or bedroom iPod can be enjoyed and controlled from any other room in the house.
Additionally, Hi-Fi by HAI is plug and play with HAI's Omni and Lumina automation controllers. The controller can set each zone's source and volume for parties, watching TV, morning news and goodnight, for example, to coordinate the audio system with daily activities. HAI's many user interfaces will also control the Hi-Fi, including the OmniTouch touchscreen, consoles and keypads, Snap-Link, Home Control for Windows Media Center and Web-Link II.
All products in the Hi-Fi by HAI line will be shipping by end of year and sold through HAI's worldwide distribution channels. For more information please visit www.homeauto.com or call 800-229-7256.