Gennum GF9450 Video Processor
Gennum GF9450 Video Processor
Filed under: Audio/Video Processors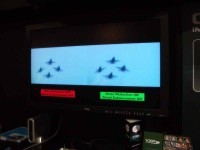 Gennum gave attendees a close look at its GF9450 image processor, the latest addition to their Visual Excellence Processing (VXP) line (and slated as an update to teh existing GF 9351). Available in production volumes in 2007, the GF9450 offers a professional quality image processing solution to the consumer market with an emphasis on noise reduction and high definition scaling.
The GF9450, developed in collaboration with experts in the digital cinema and broadcast industries, offers professional-quality algorithms and two full processing video channels. With these two identical processing channels, the GF9450 features higher processing bandwidth than competing solutions. This is ideal for the growing segment of 1080p HDTV displays with larger screen sizes, and support for Picture-in-Picture, Picture-on-Picture, and Picture-by-Picture viewing applications. There are a total of 5 maximum channels possible: the background grapghic, 2 channels of video, on-screen display, and cursor.
The GF9450 features the latest algorithmic advances in 3D noise reduction and compression artifact reduction to ensure the cleanest image possible, regardless of the signal source. Further processing is also available with professional quality HD deinterlacing, powerful texture and sharpness enhancement, and adaptive contrast enhancement. Low latency processing capabilities make this chip highly suitable for gaming applications or any system requiring precise A/V lip-sync performance. Furthermore, unique 48/72Hz film cadence locking capabilities make the GF9450 the ideal choice for professional quality home theater processors and projectors.
On top of all this, the full color on-screen display is one of the most impressive we've seen to date and can be customized fully by the manufacturer implementing the Gennum chipset into their systems.
For more information please visit www.gennum.com .