Furman Panamax MAX In-Wall PowerKit-TL
Furman Panamax MAX In-Wall PowerKit-TL
Filed under: Cables & Power Filters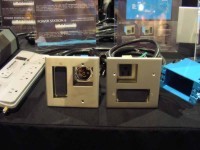 Furman Sound announced that Panamax's MAX In-Wall PowerKit-TL is available to Furman dealers. The four-component kit is designed to be used in conjunction with a Furman power conditioner. The in-wall electronic extension system is designed to supply safe, pure power from the main equipment rack to a remote display device, amplifier, or powered subwoofer, while at the same time improving picture and sound quality.
The PowerKit-TL includes a power inlet faceplate with a twistlock connector, a shielded 12-foot extension cord that connects the inlet plate to the main Furman power conditioner, and a power outlet faceplate. The in-wall extension system also comes equipped with a Retrofit-style J-box for placement anywhere desired in an already existing wall or panel and is UL approved and code compliant.
The MSRP is $299.00
For more information about Furman Sound is available at www.furmansound.com .