First Impressions CineLounger
First Impressions CineLounger
Filed under: Furniture and Mounts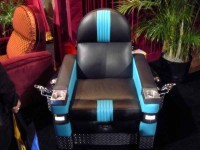 We visited First Impressions Theme Theatres at Cedia and were impressed with their CineLounger line of custom theme chairs. The CineLoungers are high performance and personalized cinema chairs designed to enhance your home theatre and custom created multimedia viewing room. CineLoungers feature recliner/incliner, and rocker cinema seating in your very own private theatre environment.
One of the featured chairs at Cedia included a Harley Davidson motorcycle complete with ultrasoft black leather, side mirrors and best of all, a reved up Harley sound effect when the chair is reclined.
Another custom chair featured was a soft red velvet recliner with an insert for your LCD touch panel panel remote. The remote is surrounded by the same material as the chair and has conveniently located storage area located in the arm of the recliner. It also had an Ethernet port, an outlet, and massaging and heating.
Prices start at $1449 but can increase dramatically depending on the amount of customization you wish for your recliners.
For more information visit www.CineLoungers.com