Epson Previews 1080p LCD Projector
Epson Previews 1080p LCD Projector
Filed under: Projectors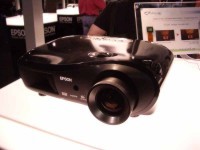 Epson previewed its new PowerLite Pro Cinema 1080. This 1080p projector is the next generation 3LCD product from Epson which features 1080p native resolution from a 16:9 wide panel. While the price is yet to be determined, it is expected to come in under $5000. Like all recent Epson PowerLite Pro projectors, ISF certification is set to be a part of this device and a D6 C2Fine 1080p LCD panel will be integrated into the unit for truly next-generation performance.
equipped with hybrid driving technology that further enhances the performance of 3LCD-type front-projectors and large-screen LCD projection TVs. The D6 series, incorporating "Crystal Clear Fine" inorganic alignment layer HTPS technology, are 0.7-inch (diagonal 1.9 cm) panels designed for true-HD-ready (1080p) TV systems and front-projectors for home theater.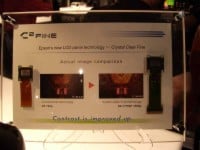 The D6 series employs a hybrid technology that uses internal and external drivers for driving the LCD. Preceding products called for horizontal driver IC to be provided inside the panel. Externally mounted horizontal driver ICs, as used in the D6 series technology, have superior driving capabilities.
Combined with the LCD driving controller IC on the panels connection tape, this results in smoother images, less power needed to drive the panel, and a reduction in the space required on the circuit board, making it possible to make projection products smaller.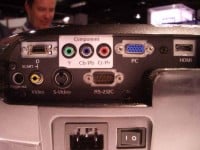 This new D6 series panel is the first product to employ Epson's "Crystal Clear Fine (C2 Fine)" inorganic alignment technology, which was developed last year. In addition to the D6 series panel's own features, C2 Fine's capabilities are also effectively incorporated to achieve high contrast, produce smooth images, and reproduce jet black, resulting in high-definition images.
The D6 series panel, which incorporates these technologies and provides true HD (1080p), will finally allow users to enjoy high-definition image quality on projection systems employing 3LCD technology.
For more information please visit www.epson.com .