Epson PowerLite Pro Cinema 810 HQV
Epson PowerLite Pro Cinema 810 HQV
Filed under: Projectors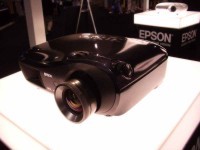 Epson unveiled their Epson PowerLite Pro Cinema 810 and PowerLite Pro Cinema 810 HQV models. Both models feature Epson's high definition 3LCD technology and either come with or without a new Realta HQV video processing engine from Silicon Optix. Priced at $2,999.99 (MSRP) for the Epson PowerLite Pro Cinema 810 and $5,999 (MSRP) for the Epson PowerLite Pro Cinema 810 HQV, both will be available beginning in October through the CEDIA channel.
With a contrast ratio of up to 10,000:1 and higher degrees of sharpness, these projectors are almost certain to be hugely popular this year. The HQV processing provided an incredibly robust enhancement to an already good display product. We're looking forward to getting a closer look at this system.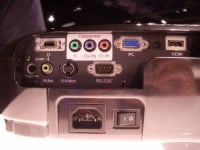 The Epson PowerLite Pro Cinema 810 is a 720p native resolution front projector that uses the latest Epson Cinema Filter and Dynamic Eye Iris to achieve an outstanding contrast ratio with some of the highest brightness levels (up to 1,600 ANSI lumens) in its class. It also features a new 2.1x zoom Fujinon lens for a more flexible installation.
The projector is loaded with a wide selection of unique image enhancement technologies and ISF adjustment options that satisfy both home theater installers and end users who have especially high standards for image quality. The HQV Video Processor TX3, included with the Epson PowerLite Pro Cinema 810 HQV, is specifically tailored to achieve a higher degree of professional-level performance. Available seperately, the processor is about $500 cheaper when purchased as a package.
The PowerLite Pro Cinema 810 front projector features one of the industry's highest aperture ratios, resulting in smooth pictures without noticeable screen door effects. It also features several other advanced technologies such as:
Full IR/RS-232 controls and home automation system-compatible codes for custom installers to create a system where audio and video are managed from a single remote control
ISF-certified (Imaging Science Foundation) calibration
Epson AccuCinema Color Management calibrated out-of-the-box to D6500 color standards and an ideal gamma curve of 2.2. Provides subtle detail for color accuracy with a wide color spectrum that's capable of displaying more than one billion colors via Epson's 10-bit drivers. Robust grayscale tracking includes 1,024 steps between black and white
Vertical and Horizontal Offset Lens can be moved up to 100 percent horizontally and to 50 percent vertically without moving the projector, and without any digital manipulation
Epson Super White achieves 100 IRE for cleaner images with less noise and better picture quality
Cinema Filter cuts the light of unwanted wavelengths, expands color space and provides high-purity color for greater intensity and contrast in dark scenes
Versatile interfaces include Component Video, RGB Video, S-Video, and Composite Video as well as HDMI, and RS-232 digital connections
For more information please visit www.epson.com .