DVIGear Active Circuit Extender
DVIGear Active Circuit Extender
Filed under: Cables & Power Filters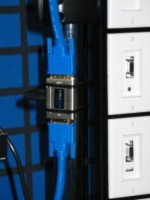 DVIGear is readying its Active Circuit Extender (ACE) product which will allow their copper HDMI or DVI cables to be sent at distances of over 150 feet and still cleanly pass 1080p (1.65 GHz). The ACE is a small active EQ system which attaches at the HDMI sink (display) side of the cable. A short jumper cable is then connected to the other end of the unit which goes to the display.
Each cable from 12.5 meters and up will come with an ACE unit, power supply and short jumper cable FREE OF CHARGE from DVIGear. This is a tremendous value - especially considering that some manufacturers are charging upwards of $200 for this same solution.
We got to see this solution up close and the results are amazing. Copper simply isn't supposed to be able to extend to this distance and yet we witnessed the demo with our own eyes. This is a great solution that reduces costs by over 30%-40% as compared to most fiber solutions.
For more information please visit www.dvigear.com .