DVDO iScan VP50
Filed under: Audio/Video Processors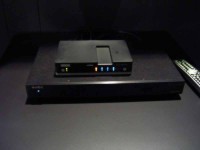 Anchor Bay Technologies (ABT) announced their high-definition video scaling processor, the DVDO iScan. The VP50 features all of the processing power of Anchor Bay's Video Reference Series (VRS) technologies including Precision Video Scaling II and HD Precision Deinterlacing.
The DVDO iScan VP50 comes equipped with VRS HD Precision Deinterlacing.The VRS Precision Video Scaling II is full 10-bit scaling featuring "enhanced" sharpness control. The VP50 also features Precision Gamma Correction for individual R/G/B adjustments as well as Precision AV Lip Sync to correct digital audio delay.
The VP50 accepts 1080p input signals from video components and processes them to the native resolution of a display, especially important with the emergence of HD-DVD and Blu-ray sources that will inevitably be connected to legacy, non-1080p display devices. Moreover, the VP50 will have a 1080p pass-through mode so the signal is left untouched from the source, to a native 1080p display.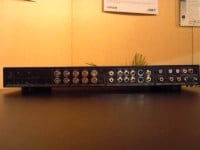 Another valuable feature of the VP50 coming via VRS HD Precision Deinterlacing will be two built-in Game Modes. The modes were designed to reduce frame delay or "game lag" for video game enthusiasts who use legacy consoles with high-definition displays. The internal signal processing of many displays can take several seconds, rendering many video games unplayable since instantaneous response to the action on-screen is required. The iScan VP50 will provide two separate modes: Mode 1 offers edge adaptive deinterlacing with less than a one frame delay; Mode 2 offers edge and motion adaptive deinterlacing with less than a two frame delay.

> The VP50 ships with several accessories including a USB to serial adapter for software updates, and a newly developed Anchor Bay test disc for calibration. Anchor Bay designed the VP50 to allow for future enhancements which may include input and expansion modules and future Video Reference Series technologies still under development.
MSRP of the DVDO iScan VP50 is $2,999 and will begin shipping in mid-September, 2006.
For more information on DVDO, please visit www.dvdo.com .
DVDO iScan VP50 Technical Specifications
Inputs
Twelve Video Inputs Available

2 Composite (NTSC/PAL/SECAM)

2 S-Video (NTSC/PAL/SECAM)

2 Component (YPbPr or RGB/S) processes 480i/p-60, 576i/p-50, 720p-50/60, 1080i-50/60

1 RGBHV/Component (BNC-style connectors) processes 480p-60, 576p-50, 720p-50/60, 1080i-50/60, [email protected]

4 HDMI (RGB or YCbCr) processes 480i/p-60, 576i/p-50, 720p-50/60, 1080i-50/60, 1080p-50/60, [email protected]

1 SD-SDI (Serial Digital Interface) Optional processes 480i-60, 576i-50

> Nine Audio Inputs
4 HDMI

2 Assignable Coaxial Digital

2 Assignable Optical Digital

1 Assignable Analog Pair (L/R)
Outputs
One Analog Video Output

Using High Quality BNC-style connectors

Configurable for YPbPr, RGBHV, RGB/S, or RGB

> One Digital AudioVideo Output
Using HDMI (High Definition Multimedia Interface) connector

Configurable for YPbPr or RGB

Also carries digital audio

> Two Digital Audio Outputs
One Coaxial Digital

One Optical Digital
Controls
Input Aspect Ratio Controls

Presets: 4:3 full frame, 4:3 letterbox, Panorama, 16:9 full frame or

user defined aspect ratio (10)

Flexible Horizontal and Vertical Zooming (up to 2x) & Panning Controls

Overscan Adjustment per input

> Output Aspect Ratio Controls
Presets: 4:#, 16:9, 2.35:1, or custom aspect ratio

Separate Display/Screen Adjustments

Underscan Adjustment to address Overscan inherent in a display

> Picture Controls
Fully programmable controls with non-volatile memories per input and input resolution

Brightness, Contrast, Saturation, Hue, Sharpness, and Fine Y/C Delay

> Operation
Intuitive On Screen Display and easy to read 2 line, 20 character Front Panel Display

Front Panel Controls, including IR Remote Control (discrete codes available), Automation via RS232 port

> Output Controls
Output Resolution, Sync Type, Colorspace (RGB or YPbPr/YCbCr), Frame Lock, Gamma (R/G/B and up to 1024 point Gamma individual RGB correction), Display Profiles (10)

35 Built-in test patterns and VRS Optimization & Evaluation DVD included for optimal setup

Software Upgradeable via Serial Port (USB-to-Serial Adapter included)

> Miscellaneous
Power

Universal AC mains input: 100 - 240 VAC @ 50 - 60 Hz

Consumption < 45W

Sleep mode - automatic 30 second timeout indicated by power LED turning off
Physical Dimensions
10.4"x17"x2.2" (26.3cmx43.4cmx5.5cm) with feet

10.4"x17"x1.8" (26.3cmx43.4cmx4.6cm) without feet

Standard 19" 1U 1.75" Rackmount included

> Weight
Shipping - 10.5 lb (4.8 kg)

Unit without Power Supply - 6.4 lb (2.9 kg)

>