dnp Supernova Flex Projector Screen
dnp Supernova Flex Projector Screen
Filed under: Projectors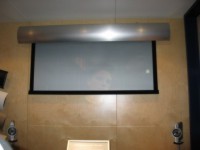 The Supernova Flex is the newest screen technology from dnp Denmark that enables projected images to be seen clearly and vividly, maintaining color saturation and fine details even in high ambient light conditions. It is capable of delivering an image that´s twice as bright and with contrast that´s ten times greater than typical screens.
The Supernova Flex retracts into a wall mounted enclosure when not in use. When the screen drops down it appears as a picture frame without the usual ´black drop´ common to other screens. The screen is suspended by a pair of 1/48-inch cables, which are virtually invisible. Even when in use the Supernova tends to be unobtrusive and blend into its environment.
The Supernova Flex features a newly developed brushless DC motor with built-in acceleration/deceleration profiles for fast, smooth, and silent positioning - one of the fastest among motorized screens - providing smooth and low noise operation.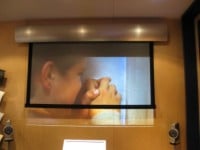 The screen's enclosure is made from high-grade anodized aluminum to ensure a low weight and a sleek design that is a stylish compliment to any décor. The cover of the enclosure is removable and replaceable. It will be offered in a variety of options including a special stainable surface, which can be painted to match the wall for a totally invisible installation.
The screen is available in sizes up to 150" in three screen formats: 1.33:1 (4:3), 1.78:1 (16:9) and 2.35:1 Cinemascope. Price varies depending on size and format.
For more information, please visit www.en.dnp.dk .