DLPs 1080p Projector Lineup
DLPs 1080p Projector Lineup
Filed under: Projectors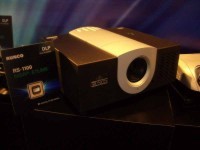 Texas Instruments debuted one of the first 3-chip 1080p DLP projectors in a demo theater at the 2006 CEDIA Expo - giving custom installers a premium 1080p projector solution for the high-end home theater market. The DLP booth featured a prototype SIM2 HT-5000 3-chip 1080p projector.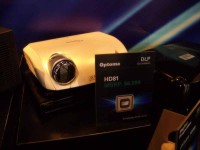 Digital Projection and Runco are also demonstrating 3-chip 1080p DLP projectors - the Digital Projection TITAN 1080p-250 and Runco Video Xtreme Series projectors offer premium video performance with native 1080p resolution. BrilliantColor technology (one of the newer emerging technology) enables up to 6-color processing for enhanced color saturation and a greater than 50% brightness increase in mid-tone images.
Manufacturers even showed off 1080p DLP projectors with estimated street prices as low as $6,999 (Optoma & BenQ) and there were10 DLP front projector manufacturers in all:
Digital Projection
InFocus
Marantz
BenQ W10000 ($6,999)
Optoma HD81 ($6,999)
Panasonic
Planar
projectiondesign Action! model three 1080p
Runco RS-1100 ($11,995)
Sharp
SIM2 Domino D80 ($9,999)
We'll bring more information individually from each of the companies as we get to them, but seeing the whole line-up was a great chance to preview what the curent 1080p pricing landscape looked like. For more information please visit www.dlp.com .