Crestron TPMC-4X WiFi Handheld Touchpanel
Crestron TPMC-4X WiFi Handheld Touchpanel
Filed under: Remotes/Control Systems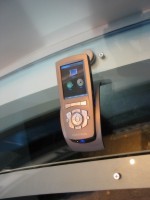 Crestron introduced the new Isys i/O TPMC-4X handheld WiFi touchpanel. This latest addition to the Isys i/O Touchpanel Media Center line of products is one of the first handheld touchpanel controllers to delivers true 2-way WiFi communication for complete system control. The TPMC-4X offers direct high-speed wireless communication with any Ethernet Crestron control system, providing complete control of AV, lighting, HVAC, shades and screens from anywhere in the building. True 2-way communications allows dynamic graphics and complete system status feedback, providing an enhanced user experience.
The Crestron TPMC-4X features a Windows CE.NET 4.2 Operating Systems providing 802.11b WiFi communication throughout a facility on its wireless network. The TPMC-4X offers a combination of touchpanel flexibility and tactile control, featuring a 3.5-inch touchscreen and 17 programmable, backlit pushbuttons. The 320x240 touchscreen display features 16-bit color graphics, dynamic text, dynamic graphics, translucency and streaming video capabilities.
Full 2-way WiFi communication allows users to view and set temperature in any room; confirm and adjust lighting levels and monitor lobby entrances from a sleek, lightweight handheld controller. Control an audio server or an Apple iPod remotely; network communications enable dynamic graphics such as the display of cover art. Search the media library efficiently with the on-screen virtual keyboard to enter text such as podcast name or video title.
Have another set of eyes in the palm of your hand. The TPMC-4X also features embedded functionality for viewing streaming video from security cameras or other video sources. The handheld Isys i/O touchpanel can display any MJPEG format source signal - perfect for monitoring the lobby, service entrance or boardroom door.
Key Features
Stylish and ergonomic handheld design
3.5" active matrix touchscreen display | 240 x 320 resolution
16-bit Isys i/O graphics | Synapse image rendering algorithm
Microsoft Windows CE .NET operating system
802.11b Wi-Fi 2-way wireless communications
Motion-JPEG wireless video support
Backlit hard buttons, thumbpad, and toggle wheel
Includes stylus with onboard storage slot
Includes docking station and Li-Ion battery pack
The unit is currently shipping. MSRP is $1.990. For more information please visit www.crestron.com .