AV123 Strata Mini Tower Speaker
AV123 Strata Mini Tower Speaker
Filed under: Loudspeakers
The Onix Strata Mini represents the "wish list" as developed by AV123 company Founder and President - Mark L. Schifter. "The Mini" (as they like to call it) represents a modern design with robust engineering and technological applications all wrapped in a beautiful package that many consumers can actually afford. The Mini is priced at $1595/pr.
The Strata Mini uses a combination of planar magnetic drivers operating in concert with "selected" cone drivers. The planar magnetic midrange and tweeter are custom built to AV123's specifications along with the French-designed and renowned Atohm 5.25" mid-bass coupler located in it's own critically damped chamber. A custom damped and treated paper cone 8" woofer - powered by an internal class A/B 350 watt amplifier - rounds out the system.
Planar magnetic drivers are known for very detailed presentations which are said to be "effortless, airy and transparent in nature".
The Strata Mini is designed for intimate settings - not cathedrals. What you can expect is an emotionally engaging and utterly immersive experience on an intimate level. The elegantly designed cabinet with real Rosewood veneers, narrow width (minimizes visual impact) and sloped baffle will be sure to carry an elegant feel to your room and extend itself gracefully to the visual realm even at rest…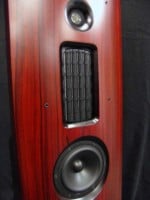 Features & Specifications
Limited Edition - only fifty pairs will be produced per month.
Cabinet: Gorgeous real wood South American Rosewood veneer wrapped around a well-braced MDF frame.
System: Four way, four driver direct-radiating system. Sealed enclosure except for the 8" woofer which is ported via a flared slot.
Drivers: Planar magnetic 1" tweeter, planar magnetic 8" midrange, 5.25" mid-bass coupler, 8" mass-loaded woofer.
Amplifier: Built-in 350 watt class A/B for the powered woofer. Features crossover, gain, variable phase and high level/low level inputs and outputs.
Crossover Network: Custom-Designed by Danny Richie for av123 and including Air core inductors, polypropylene capacitors and non-inductive wire wound resistors. 4th order acoustic slopes on the upper end and 2nd order slopes on the bottom end.
Crossover Points:

8" woofer : 27 Hz - (user definable)
5.25" has a 1st order high pass at 80Hz
5.25" mid-bass coupler to 8" midrange : 650Hz
8" midrange to tweeter : 4100Hz

Frequency Response: 27 Hz to 35 KHz (± 3 dB)
Impedance: 8 Ohms nominal
Efficiency: 86 dB (@ 1 watt / 1 meter)
Dimensions: 47" H x 13.5" D x 11.5" W
Weight: 94 lbs each
Warranty: Three years (even on the amp!)
In-Home Trial Period: 30 days (or more if you need it, just ask)
The Strata Mini Loudspeaker is manufactured as a "limited edition" product and only 50 pairs per month will be produced. MSRP is just $1595/pair.
For more information, please visit www.av123.com .