AV123 Onix Rocket RS450 Towers
AV123 Onix Rocket RS450 Towers
Filed under: Loudspeakers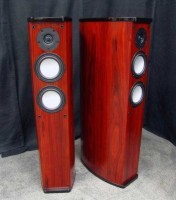 The Onix Rocket RS450 is the entry level tower speaker in the Rocket line from AV123. Packed into the 38" tall cabinet is the famous Vifa tweeter and two of their signature custom 5.25" aluminum coned mid-woofers. The speakers were designed to have exceptional midrange clarity and articulation. The Vifa tweeter is renowned for its ability to playback with significant weight and texture.
The Rocket RS450 cabinet is made from 1" thick MDF that features triple asymmetrical bracing designed to produce a very rigid cabinet that is free of resonances. The tear drop cabinet shape and assymetrical rear and front baffle is done on purpose as well to reduce standing waves within the cabinet. The cabinet is wrapped in a real wood veneer - a gorgeous South American Rosewood. For those into these things - the wood is actually plantation grown (meaning that it is a renewable source and grown just for harvesting) and meticulously applied. Each pair of speakers is book matched - so the veneers are from sequential cuts of the log and will essentially be mirror images of each other but with subtle variations. The top and bottom of each speaker is fitted with a handsome piano black lacquer end cap. The bottom piece features brass thread inserts for use with the included brass spikes and hardwood floor protectors.
AV123 allows consumers to try anything in their home for 30 days - which they deem a necessity when selecting speakers.
Features & Specifications
System: 2-way, three-driver direct-radiating system, vented enclosure with two rear-firing flared ports.
Drivers: Vifa Ring Radiator tweeter, two custom 5.25" long-throw mid-woofers
Frequency Response: ± 3 dB 38 Hz to 20 KHz
Crossover Point: 2.5kHz
Slope: 12dB acoustic
Impedance: 8 Ohms nominal
Efficiency: 87dB (@ 1 watt / 1 meter)
Dimensions: 37 5/16" H x 15 5/8" D x 8 13/16" W at widest point; 6 7/16" at the front; 5 3/8" at the rear
Weight: 70 lbs/pc shipped
For more information, please visit www.av123.com .