APC UTS Power Switch
Filed under: Cables & Power Filters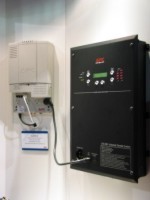 American Power Conversion (APC) today unveiled the APC Universal Transfer Switch (UTS), which automatically transfers loads from a utility to as many as two backup power sources during a power disturbance. Designed for home or small business use, the APC UTS, when paired with a backup power source, can protect valuable and sensitive electrical equipment against problems caused by blackouts and support power critical loads such as furnaces, lighting, well pumps, and medical devices.
Current manual and automatic transfer switches are limited to one backup source, which in most cases is a generator. Alternatively, the APC UTS can work with two backup power sources, using any combination of the following: generator, uninterruptible power supply (UPS), portable inverter, solar power, wind power, or fuel cell. When connected to the APC UTS, a UPS can provide uninterrupted, conditioned power to devices during the critical time between a power failure and generator start-up or can be utilized as the sole backup power source for select circuits. Allowing the APC UTS to connect to a second power source enables consumers to choose cleaner, more efficient, alternative energy sources.
Additionally, the APC UTS incorporates a technology called Adaptive Load Management which maximizes the capability of backup power sources. In the case of a generator, the APC UTS will shed loads if the generator is in danger of overloading and reconnect the loads when power is available. With Adaptive Load Management, the UTS can manage more loads, reducing the need for oversized generators and allowing consumers to increase the number of loads they can back up.
Available in the fourth quarter of 2006, APC will offer the UTS in three models: 6-circuit, 120V (UTS6); 6-circuit 120V/240V (UTS6BI); and 10-circuit, 120V/240V (UTS10BI), carrying estimated resale prices of $299, $299, and $399, respectively.
For more information please visit www.apc.com .