APC S20 UPS Power Conditioner
APC S20 UPS Power Conditioner
Filed under: Cables & Power Filters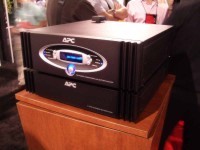 American Power Conversion (APC) unveiled the S20 Power Conditioner with Battery Backup (S20BLK). Based on APC's S15 model, the S20 features network manageability, temperature/humidity monitoring and a 28 percent larger power train versus the S15. As a Crestron Certified Integration Partner and an InConcert Partner for AMX, the S20 is easily integrated and managed within these or any other home automation network. Custom installers can now have an all-in-one network-manageable power protection system that will help reduce intrusive service calls and increase customer satisfaction.
The S20's built-in web server and RS-232 serial port provide installers multiple ways to control and monitor the unit and the components plugged into it. The S20 also gives installers the ability to remotely reboot hung equipment, saving customers a costly and intrusive service call. When programmed appropriately, home automation networks can respond to any one of the S20's many outputs. For example, if the S20 reaches a low battery condition, the network will respond to this signal by putting the projector into standby allowing the fans time to cool down the bulbs before the unit's batteries fully deplete. One example of the S20's management and monitoring options includes the "Replace Battery" notifications, which are viewable over the Internet or via a home automation touch panel.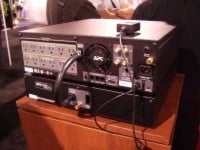 Responding to installer' concerns about increasing temperature levels found in today's custom installations, APC designed the S20 to incorporate the company's proven Environmental Monitoring Unit. It ships with a temperature probe, attached to an eight-foot cord, to monitor ambient temperature in the equipment rack Aside from just reporting temperature levels, installers can program the S20 to power down connected equipment if the temperature exceeds user-set thresholds. A probe providing both temperature and humidity monitoring is also available (sold separately) for customers in areas with high humidity.
The APC S20 Power Conditioner with Battery Backup, fitted with a black, anodized aluminum chassis, will be available in fourth quarter 2006 and carries an MSRP of $1,999. Additional batteries have a suggested price of $499 each, and the temperature/humidity probe retails for $59.99.
For more information please visit APC's Web site at www.apcav.com .