APC C2 Power Filter
Filed under: Cables & Power Filters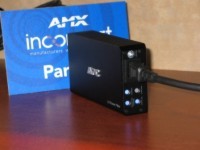 American Power Conversion (APC) introduced the APC C2 Power Filter that delivers surge protection and isolated noise filtering to wall mounted displays. The C2 Power Filter features two surge-protected outlets, LED status indicators, and a slim profile, allowing consumers to install the device directly behind a wall mounted television.
APC AV's C2 Power Filter protects valuable home theater equipment from damaging surges and spikes caused by power anomalies such as lightning. Additionally, isolated input and output noise filter banks help eliminate electromagnetic and radio frequency interference (EMI/RFI) as a source of audio/video signal degradation. The LED status indicators on the C2 Power Filter provide proactive notification of changing power conditions including filtering, protection, overload, and wiring faults. A detachable two-foot power cord is included giving users and installers the option to switch to a longer cord (sold separately) for particular installations.
Available in the fourth quarter 2006, the C2 Power Filter comes with a $350,000 Equipment Protection Policy for connected equipment and carries an estimated resale price of $99.99.
For more information please visit APC's Web site at www.apcav.com .