EHX Expo Orlando 2005 Day 2
EHX Expo Orlando 2005 Day 2
Filed under: Miscellaneous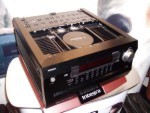 Integra DTR-10.5 THX Ultra2 Modular Receiver
>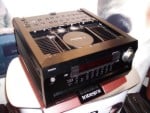 Integra was at EHX showing off their new DTR-10.5 receiver. Alive and kicking, this THX Ultra2 certified unit is a 71 lb heavyweight with 150 watts/channel and the capability to punch 340 watts into two channels at 3-ohms (per manufacturer's specs). The DTR-10.5 is the world's first home theater receiver built around a modular, card-based architecture. Integra works with your professional installer or retailer to configure the receiver's various connections and features to suit the specific needs of your home theater. It lives up to its flagship status with a family of plug and play card options, upgradeable software, and PC configuration program. Their new Build to Order system allows users to configure the different options that are available on this fully-configurable flagship receiver. Check out our review of the Integra Research RDC-7.1 and RDA-7.1 .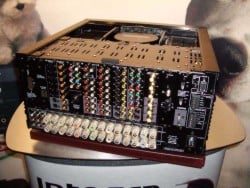 Major features include:
150W/channel x 7
4-ohm capable
THX Ultra2 certification
All discrete output stage amplifiers
Component video upconversion
HDMI video upconversion (optional)
7.1 multi-channel inputs (optional, up to 2 sets)
Net-Tune
IEEE 1394 multi-channel audio support for SACD/DVD-Audio/DTS/Dolby Digital
5 programmable 12V DC triggers
Powered zone 2 with OSD, Zone 3 with composite video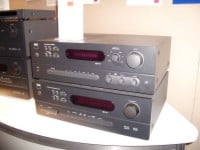 NAD Electronics
> NAD showed off their updated Stereo Receiver, called the C720BEE. This unit combines their award-winning C320BEE amplifier with an RDS AMFM tuner, and includes a Multi-source Zone 2 facility that allows you to listen to your music independently in another room of your home by simply adding an amplifier and another pair of speakers. The C720BEE comes supplied with the NAD SR5 system remote control. The remote will also operate other NAD products such as CD players. Also included is a small Zone 2 remote that allows input switching from a remote zone when used with an IR extender eye. A simple second zone can be configured by using the switchable Speakers B option. Flexibility seems to be an NAD strong point. The C720BEE has 7 line inputs and the pre-amplifier section can be separated from the power amplifier for easy upgrades or adding ancillary equipment. Thus the C720BEE can be expanded to meet future system needs.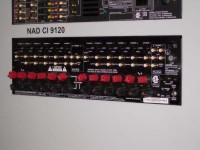 Another notable products in the NAD booth was the CI 9120 power amplifier. This 80W x 12 (8-ohms, all channel driven) amp is suitable for the serious custom-install application where significant power is needed around the home. This amp could single-handedly drive two 5-channel home theater rooms and still have a stereo pair left over for an extra bedroom or outdoor patio.
NAD's proprietary Output Management Circuit (OMC) ensures that the full power is available at any reasonable load impedance. If the load impedance falls below 3 ohms, indicating something other than a loudspeaker is connected to the amplifier channel, the OMC will limit the power flow and prevent the amplifier from overdriving or overheating. This not only protects the amplifier, but it also prevents loads attached to the amplifier from heating up excessively, an important factor when the liability of an installed system is a consideration. When the OMC detects a potential fault situation and begins to limit current flow, an amber colored LED illuminates on the front panel to alert the installer to a problem in the system. When the OMC is activated, the amplifier will continue to play without distortion, but the power level will be reduced to the amplifier channel that has the problem.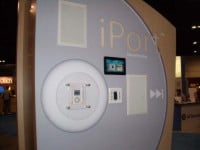 Sonance: iPort, Cinema Ultra & Select Series In-Walls
> Sonance is an example of a company who is quick on the draw and keeping an eye on how to jump into new and successful markets. The iPort makes it easy for the entire family to use an Apple iPod to enjoy their digital music and digital photo collections throughout the entire home. iPort provides quick docking and access to the iPod photo, iPod mini and 4th Generation iPod with Click Wheel (40GB, 20GB only). The included Wallplate allows the iPort to connect to and play through practically any local or whole-home audio system. The DC power supply (also included) charges the iPod while it is docked in the iPort. Sonance's newest iteration of the iPorrt includes support for iPhoto playback though a connected display.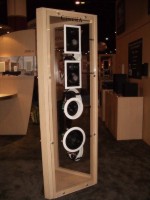 Sonance also showed of their Cinema Series speakers which carry THX certification, establishing a formidable standard of home entertainment performance. Sonance Cinema Series speakers are ideal for both multi-channel home theater and music applications. THX certification ensures that they can perform as advertised and that sound reproduction will be above par.
The THX® Select-certified Sonance Cinema Select LCR performs just as impressively with music as it does with film soundtracks. The Cinema Select LCR incorporates a new 6-1/2" carbon fiber cone woofer and a 1" silk dome tweeter, mounted on a low-resonance 3/4" MDF baffle. The more robust Cinema Ultra II LCR carries THX Ultra 2 Certification to provide superior 7.1-channel Surround EX home theater performance (not to mention best in class 5.1-channel performance). The Cinema Ultra II LCR (sold 1 each) is perfect for the front Left, Center and Right channels in a home theater system. The LCR features a rotatable midrange tweeter array for directional sound field optimization. Sonance engineers have taken great steps to insure superior performance regardless of wall cavity variances by including an integrated backbox and integrated mounting system.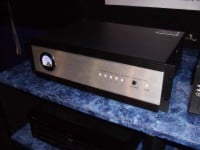 Tributaries TX 500 Power Manager
> Joe Perfito was showing off the TX 500 power manager that is new for Tributaries. These power conditioners feature Twin-T noise filters, Silicon Avalanche diodes (as opposed to traditional MOVs), a front panel voltage meter, LED indicators, polarity fault indicators, programmable outlets, external 12VDC triggering, and RF/phone line protection. The unit has a stated ratingof 1800W/15amps and has 10 power outlets.
MSRP is $750 and the units should be shipping shortly. Take a look at the rear panel .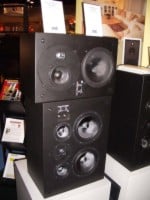 psb Custom Sound CHS60 and CHS40 In-Cabinet Loudspeakers
> Using the components of the highly regarded Platinum Series T6 towers, the CHS60 is a high power/high output system specifically designed for use while mounted in a cabinet in a home theater system. Many high end home theater systems have most of their components, including the speaker, hidden away in cabinets. While this hides the clutter it can be detrimental to performance unless the effects of the equipment cabinet are taken into account. To address these issues, the CHS60 includes a two position boundary compensation switches to give best low frequency response whether the system is in an equipment cabinet or in free space. A second switch gives an exact compensation for the high frequency roll off that comes from mounting the system behind a perforated screen.
>
The system is constructed as a highly durable utility cabinet with a tough textured "spatter coat" paint finish. Its dimensions are carefully chosen to fit in virtually all equipment cabinets. The driver complement includes dual 6 1/2" (165mm) high power shielded woofers with an incredibly stiff fiberglass cone. Dual 4 1/2" (115mm) midranges use a lighter version of the same fiberglass for a very pure midrange response. The midranges are positioned in a D'Appolito array around a high power, low resonance 1" (25mm) Titanium dome tweeter.
>
The crossover is quite complex with multiple second and third order sections and an elaborate combination of air core and laminated core chokes. Film capacitors are used in all critical locations. The CHS60 has an MSRP of $1749/ea. and the CHS40 is $1249/ea.
The CW800E takes components from the highly acclaimed Platinum T8 tower, adds a high performance in-wall cabinet and novel crossover circuitry to squeeze the maximum performance out of a speaker less than 4" deep. A highly braced wooden full enclosure has a novel mounting scheme for easy in-wall installation. A highly optimized crossover network matches the balance of the system to other Platinum models and also shapes and extend bass response.
>
The driver complement includes dual 8" (200mm) high power shielded woofers with an incredibly stiff fiberglass cone. The woofers use very high mass and greater than normal motor strength to optimize them for best performance in the limited volume available. The same MTM (midrange-tweeter-midrange) components are used as in the T8. Dual 4 1/2" (115mm) midranges use a light and smooth responding fiberglass cone for a very pure midrange response. The midranges are positioned in a D'Appolito array around a high power, low resonance 1" (25mm) Titanium dome tweeter.
The crossover is quite complex with multiple second and third order sections and an elaborate combination of air core and laminated core chokes. Film capacitors are used in all critical locations. A novel High-pass filter extends the in-cabinet bass response. MSRP for the CW800E is $2749/ea.

Panamax MAX Home Cinema M1500-UPS
> Panamax demoed the new MAX Home Cinema Uninterruptible Power Supply (M1500-UPS). The M1500-UPS is a 1500VA, rack-mountable unit delivering filtered and surge-protected power to connected equipment and can safely shut down equipment during power outages.
Panamax's M1500-UPS features six AC outlets split into two isolated banks of 2 and 4 outlets. Installers can designate the 2-outlet bank as a "critical load" bank and program a battery threshold so that, in an extended blackout, power for the 4-outlet bank is turned off at the designated level and all remaining power is reserved for the critical equipment. Installers can also program the M1500-UPS to dispatch IR shut-down commands for equipment that can be damaged by a sudden power loss. For instance, the UPS can trigger a stand-by mode in a DLP projector in which its fan will remain on until the lamp is cooled. End users can easily replace the unit's battery. Panamax also showed off its MAX 5510-PRO and MAX 4510-PRO ACRegenerators providing isolated power for digital source components. The MAX 1500-UPS is available immediately and has an MSRP of $999.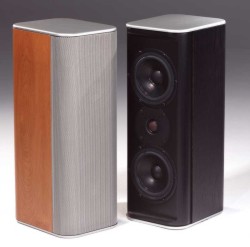 Snell Acoustics Introduces Several New Models
> Snell Acoustics introduced the D7, M7, CR7, SR7 and Basis150 to the Series 7, Snell's first line created from the ground up by famed chief designer Joe D'Appolito. The visually striking Series 7 now consists of eight models, the D7 Tower, the M7 Monitor, the CR7 Center Channel, the SR7 Dedicated Surround and the Basis150 Powered Subwoofer. These are in addition to the currently available K7 Mini-Monitors, a 2-way monitor, the LCR7 Monitors, a 2 - way design that incorporates the well-known D'Appolito Array and the Basis300 Powered Subwoofer, a 300-watt powered subwoofer.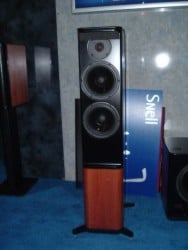 The beautiful D7 Tower is a floor standing tower configured in a 2 ½ way design using dual 6.5-inch woofers with a 1-inch silk dome tweeter plus Snell's trademark rear firing 1-inch silk dome tweeter mounted on the back of the speaker. The D7 sits in a casted aluminum bass, stabilized by four integrated feet. The M7 Monitor is a step down in size but not in performance using a single 6.5-inch woofer and a 1-inch silk dome tweeter. The CR7 Center Channel is more compact than the LCR7, using dual 4.5-inch woofers and a single 1-inch cloth dome tweeter.
The Basis150 Powered Subwoofer is a 10-inch subwoofer rated at 150 watts and extends down to 32Hz. It is significantly smaller than the Basis300, for placement in more locations especially small listening environments. The SR7 Dedicated Surround is trapezoid-shaped and designed for on-wall mounting. It can be switched to function as either monopole or a dipole dispersion depending on the needs of the customer. On the frontside is a single 4.5-inch woofer and a 1-inch cloth dome tweeter.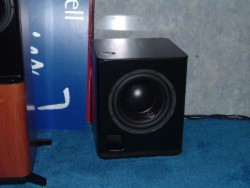 On the sides, facing the front and back walls, are dual 2.5" tweeters. The front tweeter plays in the direct mode, while the side tweeters are used in the diffuse mode. MSRPs range from $600/ea for the CR7 to $1500/ea for the D7 and Basis300.
Snell is no stranger to the industry. Their designs have garnered much respect among consumers and reviews alike over the years.
We were pleased to hear Snell hired on legendary Joseph D'Appolito (famous for D'Appolito loudspeaker design where the tweeter is sandwiched between two woofers known as a MTM configuration). We look forward to reviewing their products in the future.

Silicon Optix Introduces Cinema Anyplace Scaler/Switcher Solution
> Using the combination of Cinema AnyPlace and Panamorph lens, Silicon Optix enables home-theater enthusiasts to fully utilize the pixel-producing capabilities of high-end home-theater projectors for all widescreen content. The Cinema AnyPlace uses advanced scaling techniques to extract and scale "letterboxed" 2.35:1 content into a full-screen 16:9 presentation, fully utilizing the entire resolution of today's most popular home-theater projectors. The Panamorph lens then optically stretches the image to the 2.35:1 format, thus enabling the home reproduction of close to 80% of Hollywood's big-ticket releases in their native screen aspect ratios. The result is that resolution is increased by 33% and net brightness is increased by 20%. Pixel structures are also compressed to create a more filmlike effect. The annoying halos of unused light above and below the 2.35:1 content are completely eliminated. They demoed this technology in their booth and it was impressive to say the least.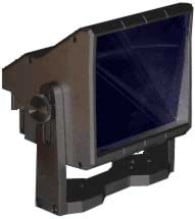 Cinema AnyPlace includes the same state-of-the-art scaling and quick-switching capabilities as the Silicon Optix OptiScale and Image AnyPlace products. Full support for Silicon Optix's advanced geometry correction enables projectors to be mounted off-axis, or doubled up to increase the total light output appearing on the screen. Input signals include RGB analog, RGB DVI, two channels of SDTV composite, s-video, SDTV component, and HDTV component. All output resolutions in the range of VGA (640x480) to SXGA+ (1400x1050) are supported. Popular 16:9 output formats such as WXGA (1366x768), WVGA (852x480), and 720p (1280x720) are provided, as is full aspect-ratio management for projection through the Panamorph lens of all source material in the proper aspect ratio. Cinema AnyPlace attains the highest possible image-scaling quality for all scaling ratios by using the 65-tap image filter technology of the embedded Silicon Optix sxW1 Image Processing IC. The aspect ratio is automatically compensated for under all conditions. The Cinema AnyPlace video/graphics scaler/switcher will be available in March 2005 at an MSRP of $3995, or bundled with the Panamorph lens for $5495.