EHX Expo Orlando 2005 Day 1
EHX Expo Orlando 2005 Day 1
Filed under: Miscellaneous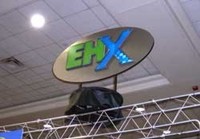 The EHX Expo 2005 show only comprised a tiny fraction of available floor space in Orlando's enormous Orange County Convention Center facility, and was nestled in a corner wing on the far side of the building, which hundreds of manufactures called home for three days. The EHX event hosted many popular manufacturers including Energy, NAD, Polk Audio, Parasound, Denon, Samsung, Vantage Control Systems, Ben Q, Klipsch, and an assortment of others. But the primary focus of this show was more for the custom installer market than the consumer. This exposed us to many companies which may not be quite as familiar to common audio enthusiasts (something we're striving to change.) The focus leaned more towards products related to home automation, custom controls and remotes for entire home operation of theater systems, panels, alarms, bulk cable, network storage systems, theater seating and comfort chairs, component racks, and a great deal more. In fact, many of the popular companies were showing products which were not seen at Vegas' Consumer Electronics Show, or promoting products in a way that were quite different than CES.
HDMI Products from Gefen
Of the many products exhibited at EHX, something that we found most interesting that affects many of our readers is Gefen products.


They offer a whole line of HDMI switchers and distribution products. As HDMI is becoming the standard for digital video many people may not be willing to upgrade their receiver or pre/pro in the near future just to get HDMI switching. Do you need HDMI switching? Most new displays and satellite receivers now have HDMI and many DVD/Universal players also have HDMI. Well if your display has two HDMI inputs and the runs are pretty short and all you have is the aforementioned equipment then a couple HDMI cables instead of a switcher is fine. If you have a display that is 30 or 40 feet away from its sources, or only has one input, then HDMI switching becomes necessary. Here is where the Gefen product comes into the picture (no pun intended).
For $349 MSRP you can get a 2X1 switcher with an IR remote sensor and if you have a programmable remote you can just add this signal to the macro or activity set up to watch TV or a movie. Viola' the problem is solved.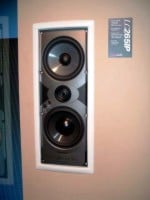 Polk Audio IP Addressable High Performance Inwall Speaker System
> Model#: LC265IP ($4000pair est)
> Polk Audio made their debut of their new self contained, high performance inwall speaker system which have some of the following unique properties:
Words first IP addressable speaker for DigLinx Systems

Digital Powered Tri-amplified Design

DSP processing for Room EQ, Crossover & Phase Alignment

Available Performance Enclosures
These speakers use the venerable Vifa Ring Radiator tweeter popularized by many high end loudspeaker manufacturers and found in Polk Audio's flagship LSI box speaker systems. There is a also a separate midrange and bass driver included to make this a full range inwall speaker capable of tailoring its sound quality in the room with the active EQ and onboard DSP processing.
Click here for a view of the back of these speakers.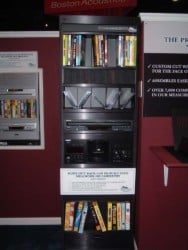 Middle Atlantic Products, Inc. Rotating Shelves
Ever wish you could easily access your equipment after you installed it into your wall unit? Middle Atlantic Products, Inc. just may be the company to grant your wish. When I happened upon their display at EHX I was in awe of the utter coolness of their product offerings. The ASR series of rotation shelves come in a variety of sizes.
| | | | |
| --- | --- | --- | --- |
| Model# | Dimensions (HxWxD) | Weight Capacity | # of Shelves |
| ASR-60-HD | 60"x21"x19" | 350lbs | 9/8 |
| ASR-42-HD | 42"x21"x19" | 300lbs | 6/5 |
| ASR-30-HD | 30"x21"x19" | 150lbs | 4/3 |
There are even places to store DVD's and antiquated VHS tapes! You send them a sample color of your furniture and they will match it to apply wood accents on the shelves for a fully integrating look with the convenience of a rotating rack!
Picture this, you just installed your full compliment of home theater equipment in a 5' rack with the ability to access the back of the system, and neatly organize the cable harnesses. Think of the time saver of such a system! As a person who changes out equipment on almost a monthly basis, I found myself drooling over this system and don't be surprised if this shows up in my reference system in the near future!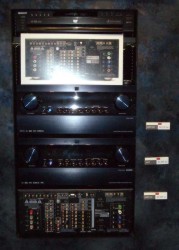 Boston Acoustics
Boston Acoustics showed off some impressive products including their line-up of receivers. The AVR7120 features 120W x 7 channels of power, 5 optical and 2 coax S/PDIF digital inputs (and a digital output in each format), Learning remote with LCD, 9 preamp outputs including full 7-channel surround plus two subwoofer outputs, two 12V triggers, three HDTV-ready component video inputs, 6 audio inputs (including phono input). The AVR7100 scales back the power slightly to 110W x 7, reduces the number of digital and analogue inputs, supports two component video inputs and has a single 12V trigger. Both receivers feature RS-232 control with flash upgradeable memory, Zone 2 with independent remote control, UniView video up-conversion, and a basic auto setup with omnidirectional microphone (no room EQ functions.)
The AVP7 is nearly identical to the AVR7120 but allows you to invest the $1000 saved into an amplifier of your choice (Boston Acoustics is hoping you'll match it with the 120W x 7 A7200.) The A7200 is a 7-channel amplifier with high current dual toroidal transformer design and capability to drive low impedance loads.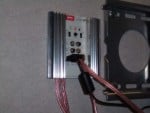 Another cool addition, the LCAi220 In-wall Local Control Amplifier which supplies 20W/channel (FTC-rated) in a compact in-wall unit designed to go behind your flat panel plasma or LCD TV and power a speaker such as the brand new P400 on-wall 3-channel loudspeaker which combines three channels (front, left and right, into a single enclosure for mounting above or below a flat panel television. The LCAi220 is small, flat, and compact. In fact, the amplifier can be installed so it mounts flush with the wall and is effectively invisible. The LCAi220 has a signal sense high-voltage speaker level trigger as well as a low-level speaker input to determine when a user turns on a TV or other device, and delivers the audio from that source through the local speakers provided.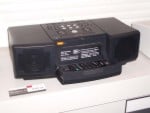 Boston Acoustics also showed off their new MicroSystem CD which takes tabletop performance to the next level. It has a big, rich boomy sound you never thought possible in a system this size. In addition, the MicroSystem CD is a rather elegant, all-in-one package that functions as a bedside alarm clock, a room-filling CD/stereo, or even to provide stereo sound for your TV. On the "cool" side, it has a slot-loading CD player, auto-dimming display and power backup. On the feature-side it sports hide-away remote control storage, WMA support and an extremely high-sensitivity AM/FM tuner that is a notch above your typical tuners.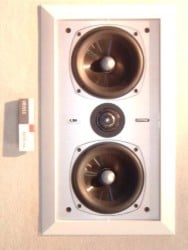 VRi553 High Performance InWall ($600/ea)
Recommended Amp Power
> 10-125 watts

Crossover Frequency
> 3,000Hz

Nominal Impedance
> 4 ohms

Sensitivity (1 watt (2.83v) at 1m)
> 91dB

Frequency Response ( 3dB)
> 69Hz-22kHz

Tweeter
> Pivoting 1" (25mm) anodized aluminum dome with AMD

Mounting Depth (from surface)
> 2-34" (70mm)

External Dimensions
> 15-58 x 9" (396 x 229mm)

Bass Unit
> Dual 5¼" (135mm) cast copolymer

Mounting Hole Cutout
> 14-14 x 7-5/8" (361 x 193mm)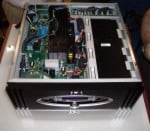 APC - American Power Conversion
APC was showing off its upcoming S15 (1500VA900W) and S10 (1000VA/685W) premium home theater power conditioner/backup systems. The new units' features include sequential turn on/off off outlets, LCD status and monitoring display (with dimmer), microprocessor-controlled fan, resettable circuit breakers, tool-less hot-swappable leakproof lead-acid battery providing about 7 minutes runtime at full load (10 minutes for the S10), dataline surge protection, isolated filter banks, DC voltage trigger (requires only 50mA), USB connectivity for monitoring (software included) and automatic self-test.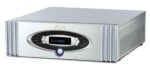 In addition to all of this, the unit is absolutely stunning - inside and out. We spoke at length with APC and will be one of the first to review this product when it is released. Unlike most of the more well-known power conditioners, the APC AV is tested to the toughest st a nd a rds of UL1449 a nd IEEE. These new units also offer very low Let-Through volt a ge r a tings (less than 40 Volts!), ensuring the best level of protection in the event of a power line transient. To top it all off, the S15 features an unlimited equipment protection guarantee!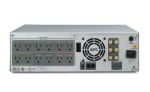 Stack an SBATT unit onto the S15 and you gain another 3x the battery life. You can daisy-chain as many of SBATT units as you like to increase your run-time, but the single charging circuit (and 15amp service line) is responsible for charging all attached batteries, so charging time increases with more batteries. We'd recommend at least one, though. They add quite a bit to the system and yes, they look VERY cool to boot!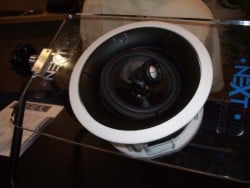 CoNEXTion Systems, Inc.
CoNEXTion Systems announced availability of the zc Series speakers incorporating patent-pending technologies that allow for the safest and easiest Tool-Less installation of ceiling speakers and also the first speaker line with the ability to get the ceiling speaker image down from the ceiling and "into the room". This is accomplished through the use of a 50° No Diffraction Angling Tweeter (that's 3.5 times more than traditional tweeters), and The Direct Axis Extending Tweeter, that maintains the 50° angle and also can be extended approx 1' slightly below the ceiling to actually point down and towards the listening position.
The Z-Tool system (for zero tool installation) allows the frame to be mounted in the ceiling in 30 seconds or less without the use of any tools! This unique, proprietary mounting mechanism allows the installer to secure the speaker frame firmly against the drywall via four finger actuated "dogs" and latching levers without the usual powered screwdriver or drill. CoNEXTion also created the patent pending SnapLok baffle that drops into place, requiring no prealignment. A simple hook mechanism and three locking knobs snap the baffle into place and allows the installer to rotate the angled baffle into the proper position. This amounts to no more juggling screwdrivers or drills on the ladder. This method is safer, quicker and easier than any other ceiling speaker installation system we've seen to date.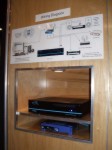 CoNEXTion is also releasing a new music server called the digitalAmbience 1010. It is a 200GB (dual Raid 1 mirrored drives) multi-room music server that runs on Linux and can play different music simultaneously in up to 6 different zones or rooms. It is self-configuring and allows users to play music from a variety of sources and formats.
It has an easy to use, powerful web-based interface for setup and configuration and supports drag and drop of music files from other networked devices. An automated remote upgrade system ensures that the server remains up-to-date and secure, hassle-free.
MSRP and availability are TBD.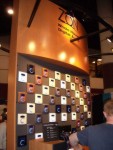 ZON Audio Controllers
We saw ZON's presentation at CES 2005 but were unable to spend the required time getting information on their products. EHX allowed us some more time to get the information we needed. The ZON Audio Controller is the next generation of amplified remote volume controllers for whole house audio. The ZAC-60 provides in-room amplification through its super-efficient, 60-Watt all-digital stereo amplifier. The integrated jog wheel and high resolution dot matrix display create a stylish and intuitive user interface. The on-board Digital Signal Processor (DSP) provides EQ selection, tone and balance controls, and a loudness contour control to enhance the listening experience in each zone. This is really one high-tech in-wall controller.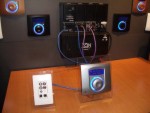 The ZAC-60 has a built-in infrared receiver that provides IR control of the ZON Controller and passes IR commands to source devices throughout the home. A built-in microphone enables system-wide paging as well as zone monitoring, ideal for the baby's room.
Each ZAC-60 connects to a ZON Router via CAT-5e or CAT-6 wire with 8P8C modular jacks. Features include on-board 4- or 8-ohm loudspeaker connection, high-res LCD display, source selection with volume control, on-board IR receiver, built-in mic, self-mounting (with available rough-in kit), and available IR credit card-style remote. To top it all off, the ZON is available in several finishes as seen above.