Zetex Class Z Amplifier Technology
Zetex Class Z Amplifier Technology
Filed under: Amplifiers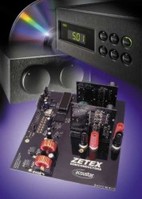 Launched at CES 2005, a direct digital feedback technology from audio switching amplifier specialist Zetex Semiconductors sets new standards in digital amplifier sound quality.
Named Class Z, this proprietary technology will be demonstrated using a digital amplifier, operating from an unregulated supply, that achieves a THD+N figure of less than 0.005% and a damping factor greater than 250. The sound quality produced by the switching amplifier challenges that of the very best linear amplifier.
A scalable amplifier system architecture that can be applied to a broad range of amplifier power levels, Class Z also promises to dramatically simplify system design and reduce cost. Zetex aims to integrate the technology into a new range of digital amplifier products during 2005 that target the high quality power amplifier and AV receiver sectors.
The unique Class Z amplifier architecture uses a fast and highly accurate digital feedback loop that compensates for a wide range of technical design issues that have traditionally served to compromise switching amplifier sound quality.
The direct digital feedback architecture from Zetex handles the limitations of FET output bridges at high powers, is tolerant to high levels of PSU noise and accommodates non-linearities in output filters. In addition, trade-offs between distortion and dissipation in the output stage are removed.
The additional features that Class Z brings to digital amplifier design are also significant. The technology's ability to accurately sense and immediately act on audio signal data means that fault protection, system diagnostics, amplifier self-test and speaker load detection facilities are readily implemented into digital amplifier systems.
For more information, please visit www.zetex.com .