Sharp AQUOS LCD TVs
Filed under: Displays
Sharp previewed a number of technology firsts and the broadest line of flat-panel TVs at the 2005 Consumer Electronics Show. A highlight of the booth was the 65-inch AQUOS, this week's world's largest High-Definition LCD Television, which is approximately 30 percent bigger than the previous record holder. In addition to the stellar AQUOS LCD lineup, Sharp previewed advanced, next-generation wireless home networking solutions and entered into the high-definition rear projection TV category.
Sharp has an LCD screen manufacturing factory in Kameyama, Japan, where a second production line was added in August, virtually doubling the plant's output since opening in January 2004. This manufacturing efficiency helps Sharp offer a comprehensive flat-panel LC-TV selection, with more than 65 models in screen sizes ranging from 13- to 65-inches.
In addition to LCD TVs, Sharp is further broadening its television line with the debut of high-definition rear projection TVs that feature Texas Instruments DLP micro-display technology. They offer both 56- and 65-inch screen sizes, with the first models shipping in March of this year.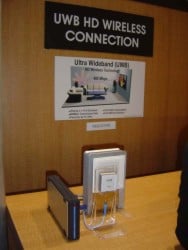 Sharp also previewed some next-generation home networking concepts that could change the way consumers interact with their televisions. Based on PowerLine Communications and Ultra-Wide Band wireless technologies, Sharp is showing how new networks can display crystal-clear pictures without cable clutter. The demonstrations included wireless, high-definition television (HDTV) and Web-based streaming video in living room, bedroom and den settings.
Sharp also showcased new 1-Bit™ home theater systems, youth-inspired audio systems, DVD recorders and high-definition DLP front projectors.
65-inch AQUOS LC-HDTV
Sharp introduced the largest LCD TV in the industry, the incredible 65-inch HDTV AQUOS LCD Television. The 65-inch Digital Cable Ready AQUOS was shown in two stunning finishes, titanium and piano-black. The 65-inch AQUOS includes a CableCARD slot, so consumers can enjoy all the latest HDTV offerings from their cable company without the necessity of a separate cable-TV set-top box. Pricing and availability were not yet announced.
AQUOS HDTV Monitor Pricing
The newly-designed 26-inch LC-26GA5U and 32-inch LC-32GA5U AQUOS LC-TVs expand the options offered by Sharp's line of HD-Ready LC-TVs, featuring fixed side speakers for a seamless silhouette. These models also include HDMI and DVI-I digital interfaces, two HD component terminals, a high brightness level and a stated contrast ratio of 800:1.
LC-32GA5U is currently available for an MSRP of $3,299
LC-26GA5U is currently available for an MSRP of $2,299
The new 37-inch LC-37GB5U AQUOS LCD TVs include a built-in ATSC terrestrial tuner for off-air DTV and HDTV signals. The LC-37GB5U incorporates elegant fixed side speakers and features a WXGA resolution of 1366 x 768, as well as Sharp's proprietary Advanced Super View LCD Panel and Black TFT low-reflection coating that dramatically reduces glare.
LC-37GB5U will be available in March for an MSRP of $4,999
Expanding on its line of Digital Cable Ready HDTVs, Sharp's new widescreen models again raise the bar for LCD design, performance and technology. In addition to 1366 x 768 resolution and a CableCARD slot, the models also include the newly enhanced TV Guide On Screen ® interactive program guide and Quick Shoot video circuitry for fast response time. Both versions will be available in March.
LC-37D7U/D5U, LC-32D7U/D5U and LC-26D7U/D5U will be available in March for MSRPs from $2,299.99 to 5,399.99
The newest 4:3 AQUOS LC-TVs lines, the B9U and B8U series, range in size from 13 to 20 inches and feature high brightness, so they can be placed near windows, doors or other light sources and consumers can still enjoy a clear and vivid picture. B8U models are available in a silver finish with side speakers. B9U models are available in an elegant titanium finish with side speakers.
B9U models will be available in 20- and 15-inch screen sizes in the second quarter of 2005. MSRPs are not yet determined
B8U models will be available in 20-, 15- and 13-inch sizes in the third quarter of 2005. MSRPs are not yet determined
The following line of 4:3 AQUOS LC-TVs feature an elegant design with bottom-mounted speakers and a black finish along the cabinet sides. The S4U series includes a function called Optical Picture Control (OPC), which automatically adjusts the brightness of the TV based on the room's ambient light.
LC-20S4U will be available in February at an MSRP of $999.99
LC-15S4U will be available in the third quarter of 2005, pricing to be determined
Sharp is introducing two sizes of new DLP Rear Projection TVs, widescreen 56-inch and 65-inch HDTV sets. These models will incorporate built-in ATSC and NTSC tuners, wide viewing angles of 150 degrees and an exceptionally high contrast ratio of 1200:1.
56DR650 will be available in March for an MSRP of $3,299.95
65DR650 will be available in May for an MSRP of $3,799.95
Sharp's 1-Bit™ Audio Home Theater System is the world's first complete vertical 1-Bit audio system designed to complement flat-panel TVs. The four-inch thin SD-AS10 offers multiple playback capabilities including DVD-Video, DVD-R/RW, CD-R/RW, MP3 and JPEG.
SD-AS10 is available for an MSRP of $699.99
A new audio shelf system from Sharp, the XL-MP150 is a 220-watt product with a multicolor fluorescent display. To help users find digital music files stored on CD, the unit's NAVI (navigation) feature can display song and artist names saved on MP3 and WMA music files.
XL-MP150 will be available in February for an MSRP of $169.99